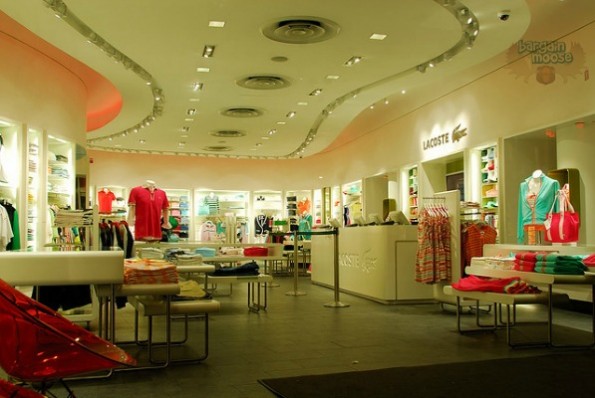 I absolutely love the simple elegance of the Lacoste brand.  That little crocodile (or is it an alligator? I never know the difference) gets me every time.  Here's a great reason to treat yourself or buy a lovely gift: 10% off on sale items at Lacoste.ca!
Click here to shop @ Lacoste.ca now
Coupon Code: add10
Discount: 10% off
Expiry:  20th July 2014
Now I'm a budget conscious mom who likes to shop on the frugal side.  Having said that, I do like to splurge from time to time on really high quality items, especially classic styles that won't go out of style before my kids out grow them or before I get tired of them.  Lacoste is the perfect fit:  a luxury brand of quality, classic, timeless styles that will see you through as long as you want them to.  There is a huge 40% off sale going on right now and you can stack this 10% code right on top!
A friend of mine recently had a baby, and I've been trying to come up with gift ideas for her little girl.  I always try to really personalize a baby gift and choose items that I either used a ton of, or really valued when my kids were babies.  I remember one gift I received for my daughter was a really beautiful, high end outfit that I put her in all the time.  Lacoste offers this Layette Romper and Plush Croc Gift Set ($94.50 after coupon, reg. $125), which comes in a little pink suitcase and includes a polka dot baby polo, culotte bloomers, and a cuddly crocodile.  I would have been absolutely thrilled to receive this and I think I will get about as much joy from being the giver.
Here's a very juicy deal.  Lacoste's L.12.12 Concept Bag With Shoulder Strap ($49.50, reg. $110.00) is a nice sized bag (35 x 27 x 14 cm) to carry all your daily essentials.  It has one zippered pocked on the inside and the ever lovely crocodile on the outside.  I particularly enjoy this bag in cyan blue.  It is made of leather except for the trim, so I would expect this bag to last a while.
The grand majority of items at Lacoste.ca are on sale right now.  Getting an extra 10% off makes all the deals even sweeter.  Don't forget that if you spend at least $150, you also get free shipping!
Make sure to check back to the Bargainmoose forum for more Lacoste coupons.
(Photo credit:  Taku)