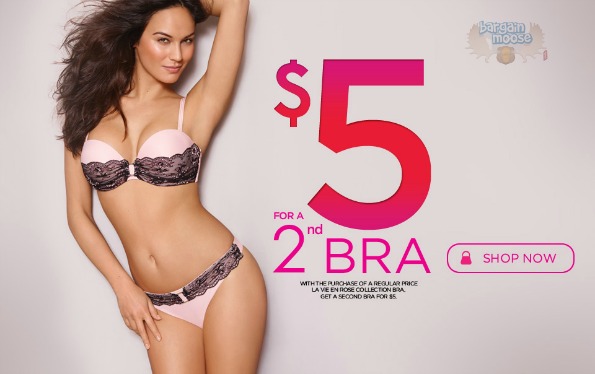 When you buy one bra at full price (around $40) you will get a second bra for only $5. You can also choose a shapewear panty instead for $5.
Each regular priced bra costs $39.95. You can choose whatever one you like, perhaps this Roses 2-tones Strapless Bra, and then choose a second bra and pay only $5 for it. You can mix and match bras so if you needed a strapless and then wanted a strapped push-up bra like this Shadow Stripe Magnetic Attraction Bra, you could get both of those. The total cost for both bras would be $44.95 so, divided by two, you would be paying only $22.47 per bra.
Now you do have the option of picking up a shapewear panty instead of a second bra. There is an interesting exception to this: if the shapewear piece you pick is more expensive than the bra, then the bra will come down to $5 and you will pay full price for the shapewear piece.
For example, I put the Teddy Controlin my cart which costs $49.95 and also added the Lace Overlay Strapless Brato my cart ($39.95). It was the bra that came down to $5. So feel free to mix and match shapewear and bras as you want.
Get free shipping on orders of $75 or more. Other than that, shipping is just $8.95.