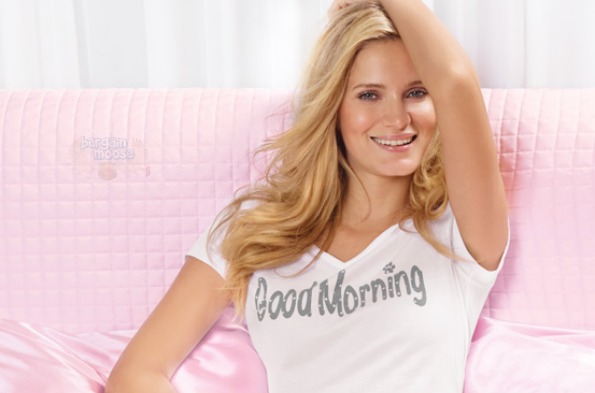 I just love when stores have BOGO deals because you can get so much for your money.  La Vie En Rose has one right now but it is a little bit different- better actually.  Normal BOGO deals are buy one get one 50% off or free, this one is far better.  They have all sleepwear on sale for buy one get two free!
There is such a huge variety of sleepwear included with this B1G2 free sale right now.  You can get nighties, long sleeve shirts, short sleeve shirts, camis, pants, boxers, pants and sleep shirts. It doesn't really matter your sleep wear style, there is literally something for everyone.
This deal will work the same way any other BOGO deals.  You will get the two lower priced or equal priced items as your free items.  You can do this deal as many times as you would like.  Just make sure you have multiples of three in your cart to keep getting the deal.
Here is a look at what I would be getting.  I love these capri plaid pants that are priced at $29.95.  I would also get this grey nightie that is priced at $29.95 as well. For my third item, I would get these boxers that are priced at $19.95. Since the capri pants and the nightie are the same price (and the highest) I would have to pay for one of those items.  I will end up getting the other two items for free. The total for this order would normally be $79.85. With this deal however, I would be paying just $29.95! I would be saving $49.90 which is a crazy deal!
All of the sleepwear looks very comfortable and stylish. You will notice that a lot of the names have the word "dog" in them and to be honest I am not sure why.  Rest assure, they do not have pictures of dogs printed all over them!
I don't often buy new sleepwear so when I do I really want a good set and a good deal.  This is the best of both worlds because the sleepwear is paired with an awesome deal, and I love the way it looks!  It is a win-win for me.
As for the cost of shipping, it will be absolutely free as long as you spend $75 or more on anything site wide.
(Expiry: Unknown)