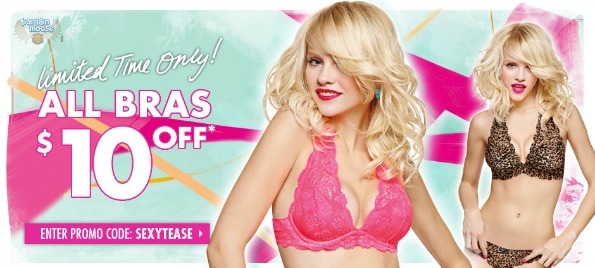 Save $10 on all regular priced bras with this new promo code from La Senza Canada.
Click here to find a sexy (or practical) new bra @ La Senza
Coupon Code: SEXYTEASE
Discount: $10 Off All Regular Priced Bras
Expiry: 14th April 2013
Bras can be expensive. But getting a good quality bra that fits the way it's supposed to, is a great investment. The nice thing about going into a place like La Senza is that they will help you find the correct size, which is sometimes half the battle. I know we all like to think that we're the same size we were, back when we were 20, but it generally doesn't work that way!
Here's my top five picks:
As for the cost of shipping, there is a $9 flat rate on all orders. If you'd like to speed up the process, you can pay $20 and have your package delivered in one to two business days.
For more, La Senza Coupons, be sure to stop by our Coupon Forum.