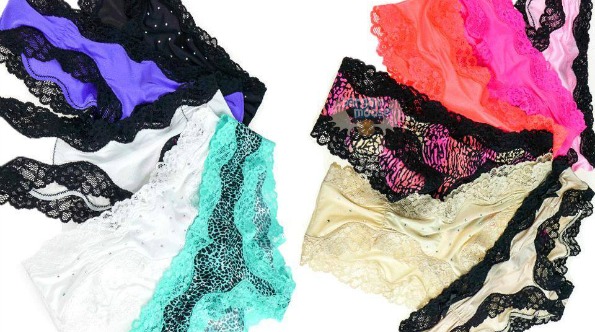 Shop at La Senza this week and get yourself two pairs of sexy panties. Then, get yourself two more, so you have four, but you'll only pay for two! Buy two pairs of sexy panties at La Senza and get two free.
Of course, like any deal of this kind, your lesser priced items will be free. I try to shop similar priced items in this case. I could totally use a revamp of my underwear drawer and add some sexy panties to it! Who couldn't? With a deal such as this, now is the time to get scandalous.
When La Senza says sexy, they don't just mean lace and thongs. I see many pairs of beautiful underwear that is also comfortable too. While there is a huge selection of thong underwear, I am more into something more like this Brazilian sexy pin up panties. I like full coverage on my butt, with a high leg, a pretty colour and some detailing and these panties have it all. These are $12.50.
If you like something slimmer in the back, but not quite a thong, check out the cheeky panty, which is probably, a little bit cheeky. I love the Beyond Sexy line, so the panties are really sexy to me and sometimes you can't beat a basic black with embellishments. These are $16.50.
If I were to get a thong, just as a surprise for my hubby, or to wear under tights, these Show Off panties would be the ones I'd choose. Actually called the heartbreaker with smoldering black, they are pretty damn sexy. Get them for $14.50.
For my last pair, these So Free brazilian pantieslook incredibly comfortable, but are sexy at the same time. These are $14.50.
If I got all four pairs of panties on a day when this deal wasn't on, I'd pay a total of $58. Instead, I'll save $27 and get the two cheapest pairs free. I'll pay only $31!
Shipping is a flat rate of $9, no matter how much you spend, so you might want to shop a little more and get it worth it!
(Expiry: Unknown)