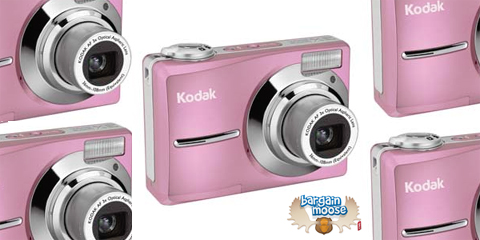 First of all, this deal may not last for very long, so get in fast! The Source is offering demo models of the Kodak Easyshare C913 9mp digital camera for only $59.99, which is half price!
I spotted this deal when I was browsing in the clearance section. It's a "demo" product, but it comes with a full manufacturer's warranty, so you really cannot go wrong for sixty bucks. It might not be the best digital camera in the world, but might be good for a basic point-and-click. It's also only available in pink, so that might affect your buying choices.
You can order the digital camera online and then collect it at your local store for free. Or you can pay extra for shipping.
Even if you're trying to think of a Christmas gift for someone, this could be handy. My teenage niece would absolutely love this one.