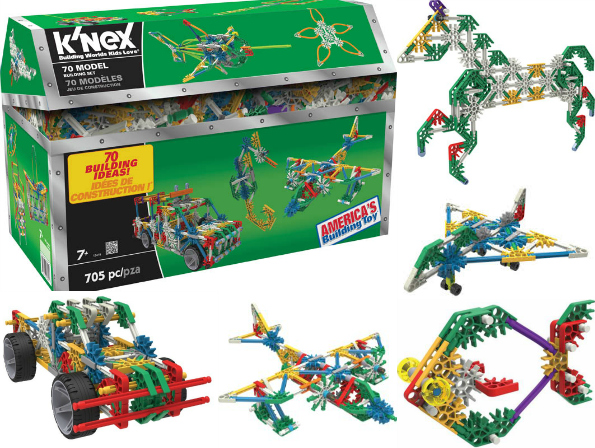 Sears Canada is the best place to buy this K'NEX 70 Model Building Set. The set is currently $39.99 at Sears Canada, but comes down to $29.99 after you use coupon code941612464. While this may seem like a good but not great deal, I will tell you that this set's retail price is actually $60 so the price at Sears Canada is already discounted before the coupon.
This set comes with 705 pieces that can be used to build 70 models (see instructions) and almost anything your kids can dream up. This set is perfect for groups of kids building together. One or two kids are practically spoiled for choice with this set. The set includes building ideas for a hot air balloon, boats, trucks, sand castle, and more! Not only does this building set come with 705 pieces, it also includes a large storage chest to fit all of these pieces and any others sets you may have.
I found this deal through finding this product on sale elsewhere. I found the set on sale at Walmart and at Amazon Canada for $34.96 (was $50). Then I found the set at Chapters Indigo Canada for the full retail price of $59.95. Given the largeness of this set and the great price at Sears that comes in below that of Walmart and Amazon even when the toy is on sale, I just could not help posting this sweet deal.
Most of the models in the book can be built at the same time, which is why this kit is so awesome. You just have endless rods and connectors for making different figures. I like the vehicle and the planes, but I really adore the horse you can see above.
Parents also report their kids loving this set. One reviewer on Sears Canada said:
What I love about these K'NEX sets is you really can build almost anything, not just square buildings and things. My kids are constantly amazing me with what they comes up with. Like I said too with so many pieces there is no fighting over pieces or having to destroy creations, everyone is happy. I just pull this out and my kids start building.

Other reviewers are quite delighted with this set as well. The storage box is the only thing that people are not as happy about, as it is made of cardboard instead of plastic. However, they admit it is fairly durable cardboard.
Recieve free shipping to one of 1300 Sears Stores or Sears Outlets across Canada.
(Expiry: unknown)