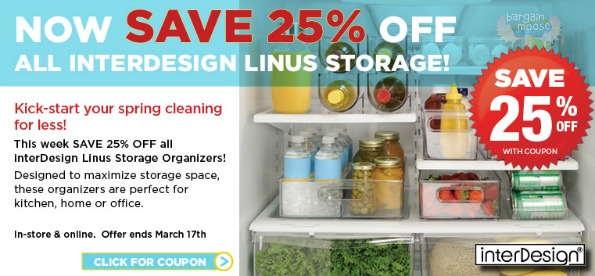 Kitchen Stuff Plus Canada is helping you get organized with your Spring cleaning with 25% off Interdesign Linus storage, with coupon code or printable coupon.
Click here to shop @ Kitchen Stuff Plus Canada
Coupon Code: LINUS25
Discount: 25% Off Linus Storage
Expiry: 17th March 2013
I just spent over an hour looking for a piece of paper, which I ended up finding in a folder, put away. If stuff is put away in my house, I can't find it. My husband and I have decided it is time to get our house organized! My kitchen drawers look like a toddler's toy area (probably because my toddler puts his toys in there), and I could really use some good storage items to keep it organized, like the ones on sale here.
We headed to the dollar store earlier this week to find something like these rectangular drawer organizers, but they didn't have any the right size. These would be perfect for corralling the kitchen utensils. Regularly $4.99, get them for $3.74 each.
This grand utensil organizer would also be great for larger drawers with a lot of stuff. Regularly $14.99, get it for only $11.24.
An extra bin in the fridge or pantry would be incredibly handy, like this 6x6x6 binz cube. Get it for only $7.49, regularly $9.99.
This stadium spice rack would be amazing for spices so I could actually see what's in the cupboard without pulling every single spice jar out. Regularly $14.99, get it for only $11.24.
Check the Bargainmoose coupon forum for more Kitchen Stuff Plus coupon codes and printable coupons.
Shipping is free when you spend over $75.