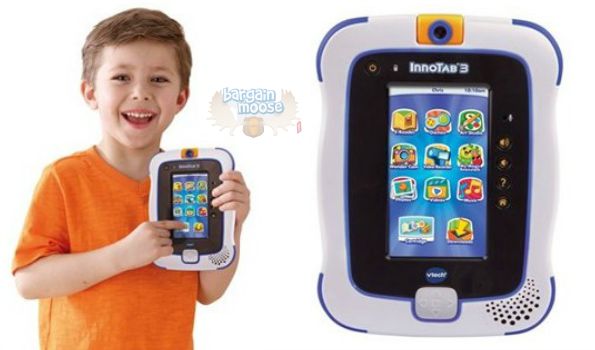 The VTech Innotab 3 Learning App tablet is on discount today and is a perfect starter tablet for your favourite kid. This educational kids tablet was $79.95 but is now only $39.98 at Chapters Indigo. Free shipping is also included with this deal.
No kiddo, don't drop mommy's *BAM* tablet. You can stick your stomach back in place and pick up the Vtech Innotab 3, which is a tablet that is meant to withstand kid hands and abuse. This tablet designed just for kids three to seven years old is a great starter device so your kid can have fun playing games, listening to music and taking pictures. The photo program looks like lots of fun with 55 special effects and you can record movies. The games on this tablet are educational and fun, teaching math, science, handwriting and more. You can purchase and download additional games online, or purchase cartridges that have included games. This is perfect for that summer road trip you still have planned, or just for fun at home.
Price comparing the Innotab 3 can get a little tricky. There is also an Innotab 3 Plus model and an Innotab 3S model, both of which have additional features over the model I am featuring today but look very similar. Over atWalmart.ca, I found a Sophia the First bundle version of the Innotab 3 for $69.97, but it does include a few small extras such as a bonus small backpack style case. The Source.ca has the same tablet available in pink only for $59.99. Amazon Canada carries this tablet, but only from secondary sellers with pricey shipping options. Over at ToysRUs Canada, the VTech Innotab 3 Plus is the only version of this tablet available, and it sells for $69.99. I was not able to find the Innotab 3 available anywhere else, but both the Innotab 3 Plus and Innotab 3S seem to be retailing for around $70 at most of the major retailers.
There is one review on Chapters Indigo's website, and they seem pleased as punch.
A great tablet for kids! It's a great product, I love how durable it is!
One of many parenting decisions that is continually up for hot debate is at what age and what type of tablet to purchase for your kids. It is a difficult choice whether to first purchase a kids tablet and take the tech process slowly or to jump in with both feet and buy an adult tablet that is a bit more powerful. Personally, I started my daughter off with a handheld device similar to the Innotab 3. I am less concerned if she drops it, which means I can take a step back. I prefer for everyday use that the tablet will limit her to kid friendly things only. We do have a more powerful tablet at home that I allow her to play for special occasions, but for the moment the kids tablet suits her everyday needs.
(Expiry: Unknown)