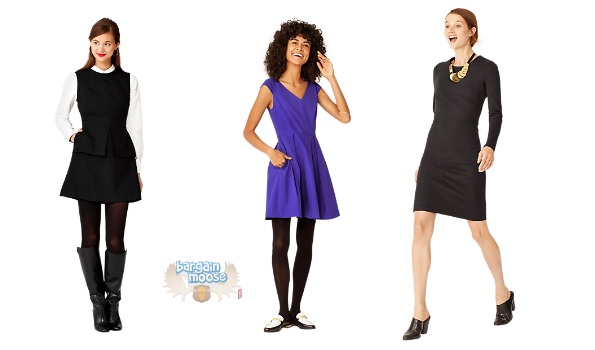 If you love Kate Spade, you'll love Kate Spade Saturday, but don't love it for too long, as the store is closing! In the meantime you can pick up some fabulous deals. I found dresses that had original prices of $160 were on sale for $112. While saying $50 is nice, you can also add the promo code EXTRA40 to get another 40% off, bringing these dress prices down to $67.20. Note that all prices are in USD and Kate Spade Saturday ships from the U.S., so you do have the potential for duties. You'll also pay a flat fee of $10 to get your items shipped from Saturday.
While I think that the shipping fees and potential duties aren't great, you are getting a unique item that really doesn't sell in Canada. I like buying items that don't sell in Canada because then no one else has them! Chapters Indigo does sell some Kate Spade items, but not the clothing.
I see three dresses that match the terms of this deal - with a final price $67.
First take a look at this very classic LBD, the panel long sleeve dress. With a zip at the sleeves and invisible back zip, this dress will literally encompass you. I see this dress looking best on someone with a flatter stomach, but I can't even imagine all of the possibilities there are with this dress. Your accessories will define your look for the day and you could probably wear this dress on a weekly basis. There is a good variety of sizing available.
A dress that I must have and don't, is the sleeveless peplum dress. Like the one above, the possibilities are really endless. You have so many choices on what to place under the dress (if anything), plus the accessories to dress it up. Sizes 8 to 12 are available for this dress.
For the rest of you who might not want to get the simple black dress, I've got just the thing. The cap sleeve flare dress comes in black or ribbon blue. I love the beautiful colour of the blue and that would be the one I'd want for spring and summer. There are still lots of sizes available for both colours of this dress.
(Expiry: Unknown)