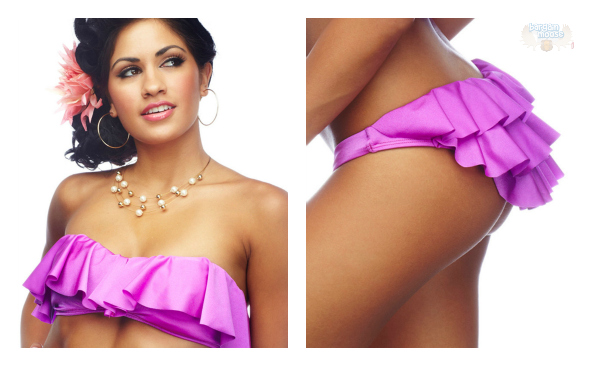 Kallone Intimi is throwing a big beautiful swimwear sale this weekend. There is a plethora of swimwear separates on sale for just $10 each, thus giving you a two-piece bikini for just $20.
This deal is not the most organized. You will have to wade through other items as well to check out all the $10 swimwear. However, I have managed to narrow it down for you so all the $10 swimwear should be through the link above.
I love love love this sale! You can get such cute swimwear for so little money! This Agua Dulce One Shoulder Tube Top was $72 and is now on sale for $10. Pick up the matching Agua Dulce Side Tie Ruffle Bottom that was $70 for just $10 as well. Usually I am not big on wearing ruffles out, but this set is so adorable I cannot resist. I really like the one-shoulder look of the top as well.
While I like the bikini style, I really need a fuller bottom to cover my bottom! The Vavoom High Waist Bottom With Bow Belt In Mint Dot is on sale from $75 down to $10. Pair it with either of these tops:
There are some truly gorgeous sets in this sale. For something even more flirtatious than the Vavoom, the Rumba Ruffle Bottom and matching Rumba Tube Top are ready to get this party started! Each piece was originally $65, and they are now $10 each. There are many colours to choose from including orange, purple, blue, pink, green, and black. I think this is my favourite set of them all but I would not have the guts to pull it off! One reviewer said:
I am middle aged and have a flat pancake behind but this bikini bottom gives the illusion of fullness with the ruffles on your backside. It also helps to hide the fact that you might not be able to fill out the swimsuit!
The Greek Summer Bandeau that was $95 and is now $10 pairs nicely with the Greek Summer Bottom for $10 (was $70). I am not one for patterns, but this set is the loveliest blue and the pattern really looks beautiful. You also save an ungodly amount of money on just this set alone. Imagine buying this set full price: you would pay $165.
Sizing is very limited so it may take some scrounging to find a set you like that is still available in your size. Shipping is free on orders of $50 or more.
(Expiry: unknown)