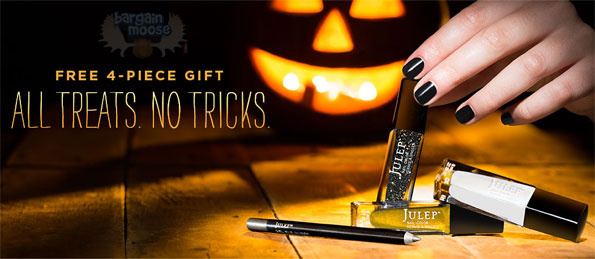 Halloween is right around the corner and to celebrate, Julep is giving away a Halloween welcome box for free. It's a 4-piece set that would have otherwise cost $24.99. All you need to do is pay the shipping costs of $2.99.
Click here to get the Halloween Welcome Box for free @ Julep.com now
Coupon Code: FREETREATS
Discount: free Halloween welcome box
Expiry: Unknown
Krista actually blogged a similar freebie to this one back in July but since the welcome box and the promotional code are different this time around, I figured I would let you Moosers know about it. Free stuff is always fun, especially if you haven't already taken advantage of it.
Without the Julep discount code, this Halloween welcome box would have otherwise cost you $24.99 but in fact, it actually boasts a $58 value. These aren't samples either as if you pay the $2.99 shipping fee, you will get them all in their regular sizes. Although the promotional details don't outline the included products, my guess based on the promotional picture would be that the welcome box comes with the following:
However, don't hold me to it as my guess is as good as yours! In fact, the gel eye glider is my biggest guess because there are several other very similar looking crayons on Julep's site. If you have already claimed this freebie or if you will be getting it, then make sure to post in the comments what you get!
A Word Of Warning
By claiming this freebie, you will be automatically enrolled into Julep subscription-based service. Every month, you can log in between the 20th and 24th of each month to preview and customize your box of products and your credit card will be charged each time automatically.
So if you only want to get this freebie and are not interested in fully subscribing to Julep's services, then just make sure to cancel the service once you receive your Halloween welcome box to avoid getting charged the full price each month. There are, however, plenty of perks of joining Julep's service, which is called the Maven as on top of getting a couple of products at a huge discount, you can also benefit from a 20% discount on Julep's site.