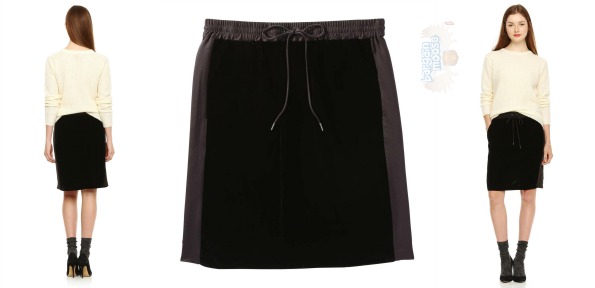 I found one beautiful little deal on the Joe Fresh website. This Velvet Skirt in black is on sale from $49 down to $4.94. While they usually have a $50 minimum, Joe Fresh is offering free shipping with no minimum right now. So, save $44 off this skirt and save the shipping costs. If you sign up to the Joe Fresh newsletter, you will also receive a coupon code for 10% off your order.
The skirt is still in stock in sizes zero through eight - only the two upper sizes are already sold out. This is a slip on style skirt with a sporty look. The elastic waist and draw strong tie are comfortable and create a perfect fit. The skirt itself is made of satin and velvet. The waistband and the sides of the skirt are satin while the front and black panels are velvet.
The skirt is about 21" long. I assume this varies given the size of skirt. The only downside of this skirt is the cleaning recommendation: dry clean only. However, I own many pieces of silk, satin, and velvet that I have never dry cleaned. I find hand washing such items and laying them flat to dry on a rack (or hanging) works just as well. I have never had any trouble with my velvet pieces or my satin pieces when washing them this way.
I know Joe Fresh has very good deals on clothing usually, but free shipping puts anything I want at my fingertips without the restraint of meeting a certain cart minimum. Thus, I can buy just this velvet skirt and not have to purchase anything else. Yet, there are other good deals if I wanted to buy more.
This Sequin Snake Skirt was $29 and is now $6.94. There are a couple smaller sizes left in stock at this time. Consider this the perfect party skirt - black and shiny.
Every set of bottoms needs a top - and I am still thinking warm and comfortable tops on cool mornings like this. This Crew Neck Cable Knit Sweater is currently on sale from $39 down to $9.94. The black matches everything and the nice thick knit will keep you warm while on the couch watching movies or while out for a walk in the evening.
This skirt is final sale as are most substantially discounted items at Joe Fresh.
(Expiry: 26th March 2015)