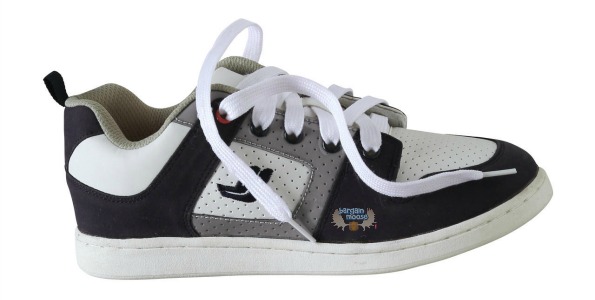 Joe Fresh is having a fantastic sale on right now with an extra 40% off all final sale items. I found these boys colour block skater shoes in grey for only $10.16, with a regular price of $25, which are a fabulous find. Guess what, you'll also get free shipping with promo code HOORAY, with no minimum. This means you'll get the shoes for $10 and pay no extra costs!
With three boys, I'm always on the hunt for great deals on shoes. My boys absolutely wreck their shoes in no time so sometimes I am buying them every three months! They use the shoes as brakes on their bikes and plasma cars and scooters, they jump in the mud and they leave them outside during thunderstorms. Three pairs of shoes at four times a year is quite the expense. I do like to buy them good quality shoes to wear to school, as those shoes last since they stay inside. But for outside play, I need the deals! Luckily for me, these shoes are still good quality and still a deal.
I really like these shoes as they have thick heels, comfort padding around the ankle area and in the sole and they look good too. These shoes are for the older boys, size 1 and up, although size 2 is sold out.
There are lots of other deals on too. I also like this boy's safari jacket in army green that was $35 and now $14.96 and these boy's classic cargo pants in brown that was $19 and now $7.76.  T-shirts are also a fantastic deal at only $2.36  with a regular price of $8! You could stock up for years to come!
Of course there is lots of other items in the girls, women's and men's sections, so take a look everywhere and see what you can find!
(Expiry: 4th June 2014)