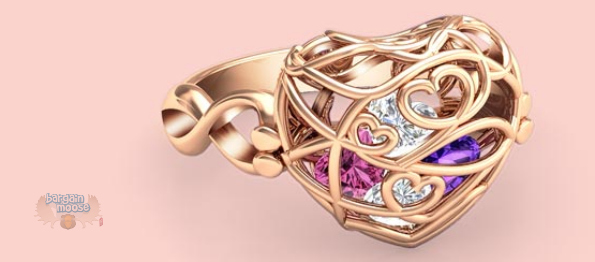 Jewlr Canada is offering up to 60%off select jewellery and charms in honour of our country's birthday: Canada Day. When you buy two or more items, you will receive an additional $20 off. In addition, you will receive free shipping with no minimum required and a free gift with every purchase.
Of course, I am always looking for the best deals I can possibly find. This Glamorous Name Necklace would make an excellent gift for a girlfriend, partner, or lover. The pendant is made out of Sterling Silver and it comes with a 16" chain. Simply choose a name and you have a beautiful personalized gift. Originally $119, this necklace is on sale for $59.
The Twisted Stud Solitaire Earrings are beautiful and quite personalized. The stone in the middle of these is the smoky quartz - what the June birthstone has become. However, you can change out the stone for something else. I think the earrings look amazing with a simulated Ruby - the stone for July. Originally $139, these earrings are on sale for $79.
Affordable jewellery starts at just $59, like the above name necklace. If you are collecting charms for your bracelet, then this Baby Steps Charmwould be an excellent addition to mark the arrival of a new baby. Originally $109, this Sterling Silver charm is on sale for just $59. The charm includes two engravings: one on each foot. Put the name of the baby and the day of birth or maybe put middle and last name on. Alternatively, you could list the weight and the date of your child's birth as you are sure not to forget his or her name!
When I arrived at checkout, I got the choice between two free gifts:
Cubes of Gold Necklace (Value $30)
Dangling Stones Bracelet (Value $30)
In my cart, the extra $20 off my order applied: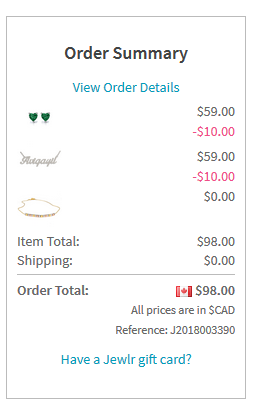 Thus the personalized necklace actually came down another $10 and so did the emerald earrings I was looking at. You can see I chose to take the cube necklace for free.
Jewlr is a really cool company. All the jewellery is made in the USA or Canada. On top of the trio of offers above, they also offer 99 day returns. If you are not happy with your purchase, you can send the jewellery back - over three months later! With free personalization and more, this is such a great online store for jewellery shopping.
(Expiry: Unknown)