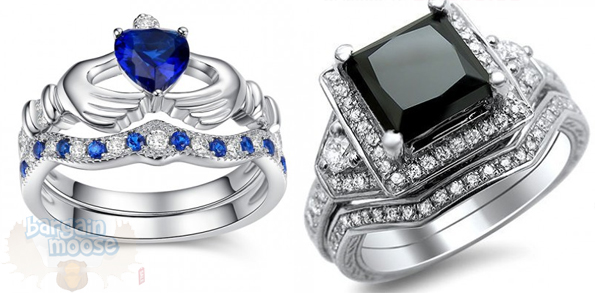 I recently discovered a US based store called Jeulia.com. They're an online jewellery store which offers FREE international shipping on ANY order! As Moosers, we all LOVE free shipping, so I thought I'd let you know about this company for a bit of variety in your jewellery choices. :)
When you click through the link above, it may not show you the currency in CA dollars – just change it at the top right. The site sells a range of jewellery as you might expect; everything from engagement rings to bracelets.
Extra Coupons
In addition to the free worldwide shipping to Canada, you can also get a 10% discount by signing up to email updates on Jeulia.com. I've just signed up for this – I got a confirmation email but I'm still waiting on the 10% coupon code to arrive.
Or alternatively, you can use these coupon codes which I found:
CouponCode: JEULIA
Discount: 20% off (?)
Expires: Unknown
CouponCode: GOGO2JEULIA
Discount: 10% off
Expires: Unknown
For the first coupon code, I tested it on an engagement ring and it seemed to be around a 19% discount. The amount may vary depending on what you are buying. Try it in your cart and see!
Automatic Discount
Just now, there's an automatic discount in your shopping cart on Jeulia.com, of the following amounts in the US currency:
$10 off $100
$20 off $200
$30 off $300
These amounts will be automatic, you don't need to do anything. However, you can over-write that discount with the coupon codes above. Just work out the value of your cart, play around with it a bit and make sure you are maximising your discount potential. The 10% or 20% coupon code are probably always going to be the best deals, but there could be some exclusions.
Up To 90% off Sale Items
Over in the sale section @ Jeulia.com, there are a couple of items on offer, with up to 90% off the original prices. There are only three items in the sale section, but they're possibly updated quite often. This cute little "Love Devotion" Necklace for Couples was originally priced at $211.13, but you can grab it now for only $44.68 with the free shipping. Of course, when you add the JEULIA coupon code, it drops down to only $40.21.
Free Stuff with Your Order
Every order you place will come with a free luxury gift package, consisting of:
1 luxury jewellery gift box
1 luxury jewellery gift hand bag
1 silver polishing cloth
1 gift card
Customs & Duties
Jeulia don't charge customs, duties and taxes in your shopping cart, these are your responsibility. With the standard free shipping, your order will be shipped to Canada via the USPS. From anecdotal evidence, there's a small chance you may have to pay extra fees at your door, so keep that in mind.
As some of you know, I am originally from Ireland, where Claddagh rings are incredibly popular. Have you ever heard of these? Traditionally, they're given as a token of love, because of the two clasped hands shown on the ring. I've pictured one in the top left of the image above.
I've never seen black diamond rings before! These are very interesting (pictured top right). Would you wear one?
(Expiry: Unknown)