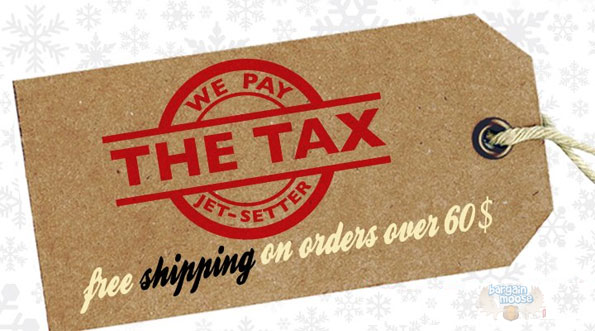 Time to pile on the savings! During Jet-Setter's Holiday Sale Event, you can save 20% off select products and until Monday, you won't be charged tax on anything as part of their Tax Free Weekend. Plus, you can also use Jet-Setter coupon code: JET15 on most items to save an additional 5% off any order!
In case you have never heard of Jet-Setter before, it's an online store that primarily sells luggage and accessories for travel.
In the Holiday Sale Event section, there are plenty of folders, colourful laptop sleeves, bags and much more to save on. Whether you're looking to travel soon -- say to a beach resort -- or maybe even in a couple of months, there are plenty of travel accessories that you can get now at a discount.
Black Friday is almost upon us and if you're planning on getting a laptop, then you're going to need a sleeve. The Pack-It Specter laptop sleeve 13" comes down to just $21.28 from a sale price of $22.40 (reg. $28). It comes in 3 colours, from orange, green to white/ green and features light perforated padding, a Power Port on the side for convenient charging and it's even washable!
Keep in mind that the Jet15 coupon code is a bit of a hit and miss one. I tried it on the pack-it liquid/ gel setand it wasn't applied. However, the 20% discount was applied and so was the no tax special. Originally priced at $17, it comes down to $13.60 and comes with 4 travel-sized bottles with a capacity of 3oz. They also come in a durable polyurethane zip top pouch to further prevent any accidents. Flying can cause all sorts of havoc on your personal items, especially when you bring skincare products, so it's best to be safe than sorry. There is nothing worse than opening your suitcase only to discover that shampoo leaked everywhere!
Do you always run out of room in your luggage or maybe even when going on any kind of trip at all? Then check out the Pack-It compression sacs. They come in a medium size and regularly priced at $12, they can now be yours for just $9. With 4 positive reviews, here's one that particularly stood out to me:
It definitely does the job and the quality is good - durable and you don't have to worry about it ripping. The only thing to be careful of is when you use it for packing your luggage. You can fit tons more stuff into your suitcase because of the compression, but your suitcase may end up being overweight.
Shipping is free on orders over $60.
(Expiry: 24th November 2014)