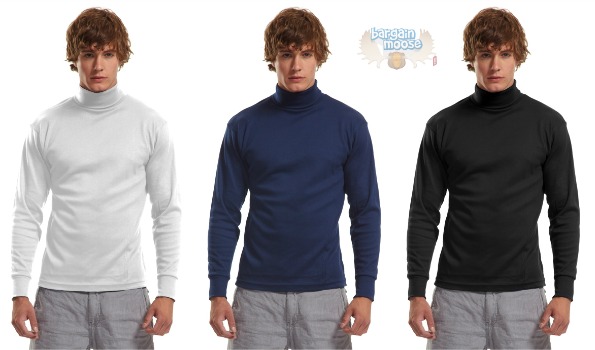 I recently stumbled upon a store called Jerico. I see that we have blogged about them before, but it was quite a while now and I thought I'd update you with some hot deals they've got going on. I found a men's turtleneck on the clearance section that was regularly $30 and on sale for just $2. Add our exclusive coupon code BARGAINMOOSE30 and it will discount by another 30%, making your total for this turtleneck only $1.40!
Jerico labels themselves as Canadian Made Socially Conscious Apparel. While their site is not my favourite (not easy to navigate in the cart), I think it is worth taking a look at some of the items you can get for better than China-made prices on Canadian-made goods.
The turtleneck in question actually has varying prices. This is one of the things I'm talking about when I say their site is hard to navigate. It says the shirt is $2.50, but adding it to your cart, depending on size, it shows up as different prices from $2 to $5. The YS white showed up as $2. There is not a huge amount of sizing left, but there are two sizes in every colour - navy, white and black.
This is just a casual turtleneck that if you like having a high-necked look, could be a wardrobe staple over the winter months. It could be worth your while to stock up.
Now, you don't just have to shop the clearance section with our exclusive coupon. You can look around at all of the other items Jerico has to offer. If you need a soft and cozy hoodie for the summer, take a look at this Artisan Melange full-zip hoody, which is made of a new class of fleece. Regularly $59, add the coupon code to get it for $41.30.
Shipping is free on a $50 order, which is pretty standard for clothing companies. You'll want to get your cart up to that amount to avoid the $10 flat rate for shipping.
(Expiry: Unknown)