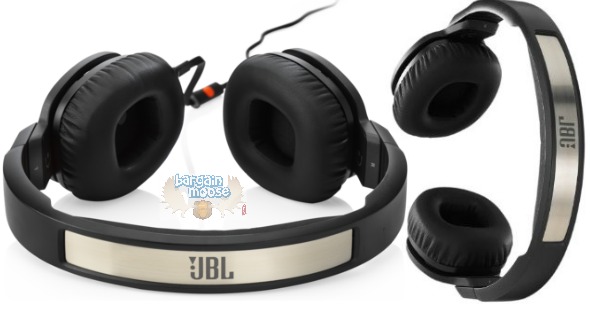 Here is a hot deal you won't want to pass up. These JBL J55i High Performance On-Ear Headphones with Mic usually retail for $80 and up, but while supplies last you can shop at NewEgg.ca and pay just $24.99 plus shipping. Shipping will cost you $9.99 which means the deal still remains a steal.
Have you ever imagined that you could snag yourself a pair of high performance, name brand on-ear headphones for an incredible low price? It is time. Time for you to get yourself a pair of these bold JBL J55i On-Ear Headphones in black. These headphones are at a smoking hot price of $24.99 and I am sure the stock won't last long at all at this steal of a deal. NewEgg.ca would normally sell these headphones for $160, but other Canadian retailers have them on sale for $79.99 and up right now.
Here is a quick look at my price comparisons, so that you know you truly are getting a hot deal:
So as you can see, even with the $10 shipping charge, you are still paying just half of the next lowest price for these high rated headphones. These JBL J55i On-Ear Headphones boast a microphone and an edgy black colour. They rotate 180 degrees with their DJ pivot mechanism and even have ear cushions made of a soft leather. These ear cups will ensure comfort even for extended use. The audio cord is removable, so you will virtually be tangle free with these headphones. At this price, you may even want to snag two or three. Unfortunately NewEgg.ca has limited each customer to just 5 pairs.
These high performance JBL J55i On-Ear Headphones would make excellent gifts for gamers or musicians even. In the box you will also find a padded carry pouch for convenient travel. Since these are the "i" version of these JBL headphones, they come with both a built in microphone and remote that is compatible with the iPhone. Although there are three colours available, only the black version is available at this hot price.
There is no telling how long this deal will last. Since this is the absolute lowest price I have seen on these after JBL headphones, you might want to act fast. I added a pair to my NewEgg Canada shopping cart. I am tired of hearing the Call of Duty sound effects ring through my household, so I think these are a smart buy. They might prevent me from going Godzilla mode on the play station system when I am trying to focus on work.
(Expiry: Unknown)