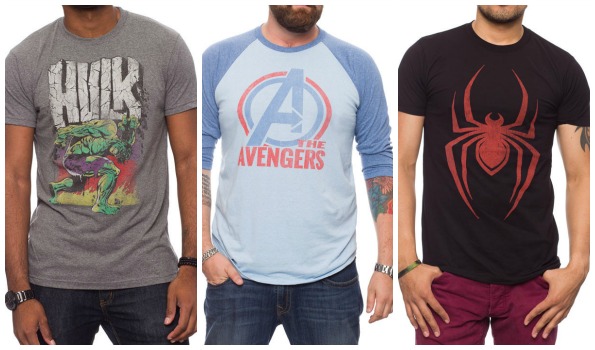 Jack of All Trades has informed me that they are selling off all of their Marvel apparel and no longer will be stocking them. To get the ball rolling, they have a very hot coupon code that will get you $10 off every Marvel t-shirt and other piece of clothing you buy with the coupon codeMARVEL10. On top of this, they have completely free shipping until the end of the year on every purchase! Normally, you'd have to spend $60 to get free shipping from Jack of All Trades, so this means you can buy a shirt for $15, get free shipping and be happy with your purchase!
These shirts make fantastic Christmas giftsfor your hubby or teen or even for yourself if you love superheroes. All of the shirts are regularly $25, so they come down to just $15 with this coupon code. I am definitely getting my husband a few new t-shirts as his are getting a little ragged and he loves superhero apparel. I only wish they had kid's sizes, but I think my oldest could fit into a men's small. Sizing is spotty, since they aren't restocking and unfortunately you can't filter by size, which I wish companies would do more often. It is so handy when searching during a sale.
My husband has a unique nickname that makes spiders a kind of icon for him. He will absolutely adore this Spiderman t-shirt. With medium, large and extra-large, I know many other husbands that will too!
I like the look of this Hulk shadow t-shirt, as it kind of has a bit of a vintage vibe. Also, most men might like just a plain white tee with a logo.
The only Marvel top under the gals I saw was this Kawaii Captain America junior t-shirt. Only size large is available as well.
Stock is going fast, and I saw shirts sell out before my eyes as I was writing. Don't wait until the end of the day to get in on this sale Moosers!
(Expiry: 19th October 2015)