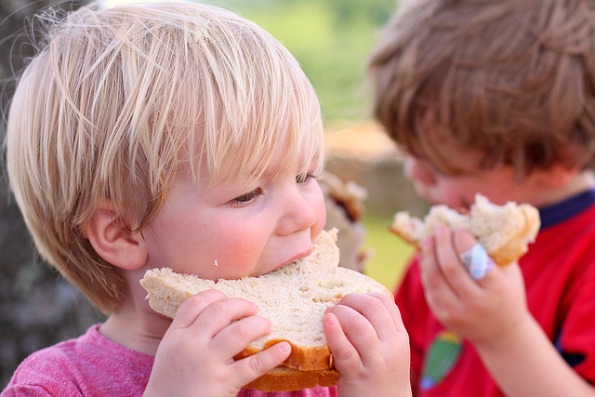 Picnics and spending time outside is a big part of summertime. Get ready for your next adventure with this fun insulated collapsible picnic basket. Valued at $52, this basket is on sale @ Wagjag for $24. Use our exclusive coupon code MOOSE5 to receive an extra $5 off your order. That brings your total to only $19 including free shipping!
Everyone loves a picnic and with this bag, you can be ready on a moment's notice. Check out this fully collapsible picnic basket over at Wagjag. This bag has an aluminium frame and is lined on the inside. That lining helps keep cold foods cold but also keeps hot foods hotter. While I am not thinking too much about hot food right now, a sleek little bag like this can be just as handy in the wintertime for a potluck as it is in summer for a picnic. The top seals with a zipper keeping either the cold or the warm food protected. Once you eat all of your delicious munchies, the bag folds down making it easy to store and much slimmer than your average bulky cooler bag. This bag is the perfect size for a family day out, and clocks in at the following dimensions: 35cm width x 30cm length x 15cm height.
You also have four different colour options including:
AtBed Bath and Beyond Canada,I found an insulated picnic tote for $29.99. At Amazon.caI found several options, but the cheapest one that is fully insulated clocks in at $43.72. Newegg.ca is selling a similar insulated bag for $55. Most of the other places I found these bags are now out of stock. The season on these bags is coming to a close even though they still have plenty of uses in wintertime.
One of my teacher friends has a bag very similar to this that she received from a thoughtful parent. It so far has been the perfect size to hold lunch and snacks for a family enjoying a day at the beach or at an amusement park. This basket slides over your arm, making it much easier to tote along than your typical cooler. The frame always kept her food from ending up squished, unlike my watermelon that became juice in my bag. If you like to make gift baskets, this is an excellent way to throw together a nice little present. This would be lovely full of food for a new mom, or as a present for the hockey family who is always on the go.
Go ahead and pick out your favourite colour. If you are ordering more than one basket, I recommend placing separate orders so you can use the coupon code more than once since shipping is free.
Image Credit: Jessica Lucia
(Expiry: 8th July 2015)