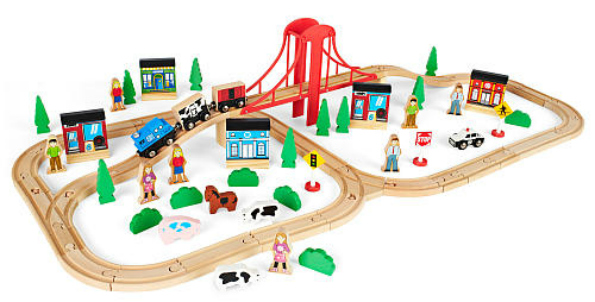 **Bump! This offer is back in time for Christmas!!**
I am actually excited about this deal from Toys R Us! The huge Imaginarium 81 Piece Mega Train Set is currently on sale from $44.99 down to just $26.97. On top of that, you receive a $10 shipping credit so shipping for this toy is super cheap!
The Imaginarium 80+ Piece Mega Train Set is a fantastic gift for Christmas. This set includes 32 pieces of track and 49 train accessory pieces including: five houses, four animals, eight figures, six pieces brush, nine trees, three piece engine and train car, one car and three traffic signs. The 32 pieces of track will keep your train chugging around the track for hours of fun. At under $30 including shipping (before tax), I cannot think of a better deal on a basic wooden train set.
Originally I was totally concerned about the shipping price, but this toy receives a $10 shipping credit. As you can see in my cart, shipping is only estimated at $11.07 so I will pay a mere $1.07 for shipping: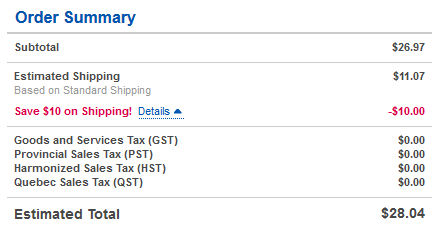 I could not find this track and train set anywhere else in Canada, but I did find it at Toys R Us in the USA. They currently have it on sale from $39.99 down to $29.99 USD = $39.50 CAN. Our price is much better for sure. One reviewer at Toys R Us Canada said:
Perfect for toddlers. My kid loves the product, play for hours on it, good decision of buying it.
Just do to the number of pieces this set includes beyond just the track, I think it is a pretty great buy at this price. You could set it up under the Christmas tree on Christmas Eve and your children can wake up to the train tracks going around the tree. It could be a joint gift for the children (if you have more than one). You can also leave it in the box and give this set to the train lover in the family.
Either way, I think this is a great buy. Most train sets like this cost substantially more and that extra $10 off shipping really pitches in to make this a solid deal.
(Expiry: Unknown)