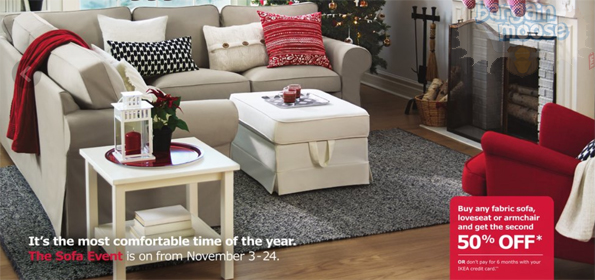 There is no time like the holidays to get your home looking at its best, which is great because Ikea is having a sale! There's a choice of two offers; buy any fabric sofa, love seat or armchair and get the second 50% off – or, don't pay for six months with your Ikea credit card.
The Ikea Ektorp sofa is a classic style that is one for the ages. I know several people who have had products from the Ektorp range for years and have found them to be durable. If you have a bit more contemporary style the Karlstad and Kivik ranges have modern, clean straight lines. I've had my eye on Karlstad L-shaped sofa for a while now, it's a nice solid sofa to cover with my many throw cushions! With this deal it isn't just sofas, you can get two armchairs or a love seat and sofa, whatever combination you like.
Unfortunately the leather products aren't part of the promo. That's okay for me because the great part about Ikea soft furnishings is that you can take off the covers. If you have pets or kids and your sofa is a bit worse for wear, you can take the covers off and have them cleaned. Or if you fancy yourself as an interior decorator and need a makeover every so often, you can buy the covers in a different colour and give your room a new look.
Ikea is big box at its best which isn't everyone's cup of tea, but there are ways to take the generic items and make them your own style. There are a lot of Ikea hacks on Pinterest and changing something like the legs on furniture can make a big difference. When I was last in Ikea I noticed there are different choices for the legs on sofas and chairs now too. All the different ranges come with a selection of covers, with the biggest selection for covers in the Ektorp range.
There aren't always sales or promos on soft furnishings at Ikea, they usually have a few sale events a year, aside from when a particular range is discontinued. If you want to spruce up your living room and you're not sure which range to go for, now is a good time to have a browse and snap up a bargain.
(Expires: 24th November 2014)