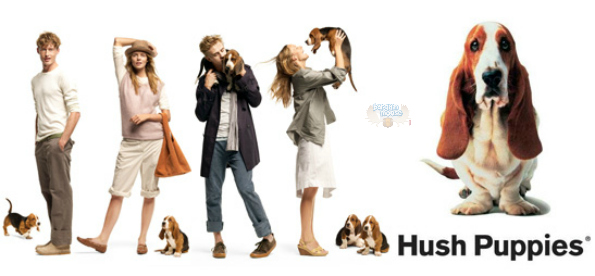 Hush Puppies Canada has come out with a wonderful coupon that you can combine with sale items. Receive an extra 60% off your purchase and free shipping (no minimum) on top of the up to 62% off sale section. It really is time for some shoe deals.
Click here to shop @ Hush Puppies Canada now
Coupon Code: 070215
Discount: 60% off & free shipping
Expiry: Unknown
The best deal for women is on the Elfie Shoe. This adorable little heel comes in blue leather or pink leather. Sizes are in European, but most of us are used to converting over to our US size by now. There are four sizes left in stock: 35, 36, 40, and 41. Originally $130, these Elfie shoes are on sale for $49.99. After you apply this coupon code, the shoes will only cost you $20 (plus tax). You can see a pair of the blue ones in my cart at checkout: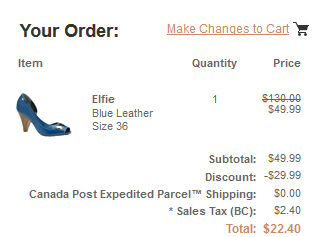 You can see how steeply these shoes are discounted and how shipping is also free.
For men, I highly recommend the Zack in tan leather or black leather. This basic dress shoe has a distressed look to give the shoe the appearance of age and 'vintage'. The tan almost takes on a natural patina due to the distressing. Choose from four sizes. Originally $130, these shoes are also on sale for $49.99. Pay just $20 per pair and receive free shipping. If they have your size in stock, then I recommend buying one of each colour!
There are plenty of incredible shoe deals with this combination: a sale and a 60% off promo code. For women, the ballard line of shoes is a gold mine of good deals. The Winnie Ballard, Winter Ballard, andWren Ballard were all $140 originally, and are now on sale for $99.99. After coupon code, pay just $39.99 per pair of new sandals.
For a pricier find, theseLabarre T-Strap and Labarre Slide_TA are a great buy. Quality shoes like these will last you a long time. While the aesthetic is a bit more 'out there', I really like my shoes to represent my personality. Originally $250 each, they are now on sale for $139.99. After coupon code, they come down to $55.99 each.
As I mentioned, there is no shortage of amazing shoe deals in this sale. Find some shoes in your size and start buying! With free shipping, the only additional charge with be taxes.