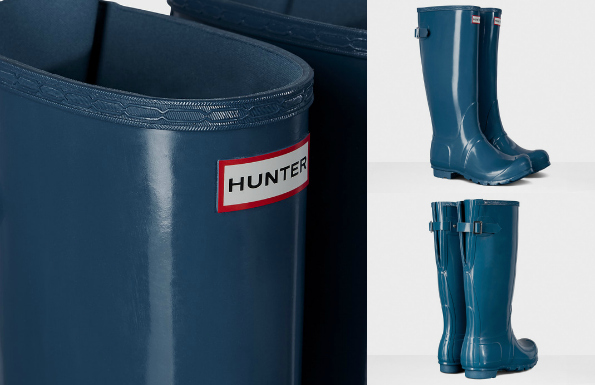 Hunter Canada has discounted their glorious Women's Original Adjustable Gloss Rain Boots on sale from $170 down to $99 with free shipping for one day only. Under $100 is awesome for a pair of tall Hunter wellies and this is the lowest price I could find - even on Cyber Monday! This offer is only for dark petrol colour - no others have been discounted.
These boots are final sale at this price so make sure you know your Hunter size! Like other Hunter rain boots, they are made completely from rubber so they are waterproof. Unlike the reguar tall wellies, these have an adjustable buckle at the back for a more custom fit and to allow a slightly larger calf size. The adjustable bit at the back is also one-piece molded rubber so they stay 100% waterproof up to the rim.
They are currently in stock in sizes 5 through 10 right now. This is the lowest price I could find these boots for - and that is on Cyber Monday too - so I think this will be a popular deal once people know about it. I found the Hunter Women's Original Adjustable Gloss Rain Boots on sale for $136 @ Shop.ca, $135.99 @ SoftMoc Canada, and $127.49 @ SportChek. Even the best sale elsewhere is still an extra $30 over Hunter Canada's price.
These Hunter boots have a gorgeous high gloss finish that you can keep shined up with the Hunter boot Buffer. I recommend picking up a few accessories for your Hunter boots while you are placing your order. Good quality rubber blooms - turns white - and Hunter makes products to take the bloom out of your boots and keep them looking new. I do recommend storing your boots DRY (not wet) to keep blooming to a minimum.
Now, Hunter Canada is also offering 20% off orders of $150 or more. These boots do not qualify for that discount but they do qualify as part of the minimum for that discount. Let me explain: you will not receive any further discount on these boots. However, you can use these boots as $99 worth towards the $150. Whatever else is in your cart making up that $150 or more will receive the added discount.
(Expiry: 30th November 2015)