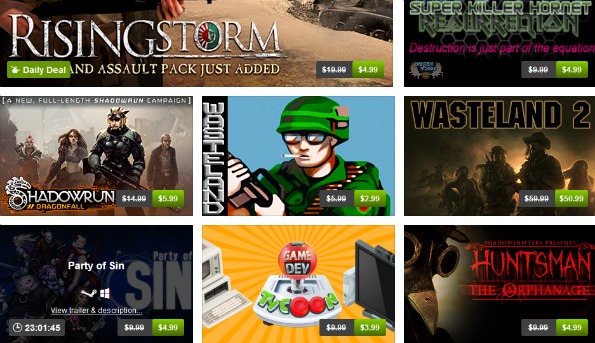 You have heard of the Humble Bundle, but have you heard of the Humble Bundle Store? Yes, now you can purchase individual games at great prices from Humble Bundle with part of the proceeds going to charity.
Every day they will have different daily deals to save you huge amounts of money off some fun games that you need to add to your collection. The new daily deals refreshes at 1PM EST each day, so you have mornings devoted to one set of bundles and afternoons devoted to a new set of bundles.
Here are some of the bundles that just started today:
Rising Storm Was $19.99 | Now$4.99
Rogue Legacy Was $14.99 | Now $3.74
Shadowrun: Dragonfall Was $14.99 | Now $5.99 (Requires the base game Shadowrun Returns in order to play)
Game Dev Tycoon Was $9.99 | Now $3.99
You can also pre-order certain games at a discount like Gods Will Be Watching, which will be priced at $9.99 and is now on pre-order for $8.99. There are also some games that you get early access to through Humble Bundle.
Make good use of the panel to your left hand side to sort games by platform and DRM. Choose between Windows, Linux, Apple and Android compatible games. You can play your games through Steam, Uplay, or receive many games DRM-free for those against the organized system.
I like the Humble Bundle store for just this reason: buying games cheaper than they are on the Uplay or Steam store and then redeeming them on those stores. For example: Steam is selling Rising Storm for $19.99, but you can buy it at Humble for 75% off and just redeem it at Steam. It is the same with Rogue Legacy, Steam currently has the game for full price, so just buy it at Humble Bundle and redeem it on Steam if you use it as your game engine. Rogue Legacy is also available on Windows, Linux, Apple, and can come DRM free.
If you are into gaming, I suggest bookmarking the Humble Bundle store along with Steam and your other favourite websites to get the best deals. Always cross-compare any game you are buying to make sure it is not cheaper at the other site. All prices are in USD.
As a final note, the Humble Bundle store is different from Steam, Uplay, etc in a big way. For every game purchased, 10% goes to charity, 75% goes to the creator and 15% goes to Humble Bundle.
(Expiry: varies)