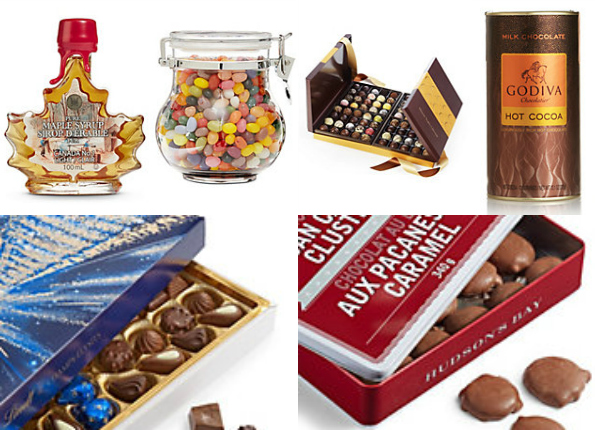 Chocolate and candy are always on my wish list both to receive and then to buy others. Hudson's Bay is currently offering up to 50% off select chocolates, candy, and more. Receive free shipping when you order today - Cyber Monday(expired).
This 94-Piece Lindt Champs-Elysees Assorted Chocolateswill be a big hit with whoever receives it. Originally $43.99, this large assortment of Lindt chocolates is now on sale for $35.19. With 94 pieces inside this set, you are paying less than 40 cents per piece of chocolate. I think this box set is worth every bite!
As I mentioned earlier, the Godiva 80-Piece Ultimate Truffle Collection was $165 and is now on sale for $82.50. This is the largest discount and it is on one of the most decadent chocolates ever - the truffle. To give you an idea of the true value of these truffles, the Ultimate Dessert Truffle Flight 6 pieces - by Godiva is on sale from $16 down to $12.80. If you bought the equivalent of 80 truffles in this mini set at the sale price... you would be spending over $170 even at the sale price. The 80-piece collection is less than half that price.
There are many candies I have always wanted to try... and this Hudson's bay Company Pure Maple Spread is one of them. I guess it is not a 'candy' but it is pure sugar! Originally $7.99, this spread is on sale for $6.39. I think I just might buy a jar of it for myself.
I love hot cocoa in the winter and the thought of having chocolatier hot chocolate is just - wow! This Milk Chocolate Hot Cocoa Canister by Godiva is currently on sale from $15 down to $12. You may think that is a bit much for a can of hot chocolate, but this is quality hot chocolate powder made with real chocolate.
I like treats that come in collectible tins. This way, when the treat is finished you will still have something to remember it by. Both this Swiss Biscuit Collection and this Belgian Biscuit Assortmentcome in collectible tins. Originally $16.99, they are now on sale for $13.59 each. Personally, I would go for the Dark Chocolate Enrobed Caramels with Sea Salt Tinand the Milk Chocolate Covered Toffee With Almonds Tinas they are on sale from $14.99 down to $11.99.
There are so many yummy treats you can pick up this Cyber Monday. With free shipping, you will not want to miss out on this sale!
(Expiry: 30th November 2015)