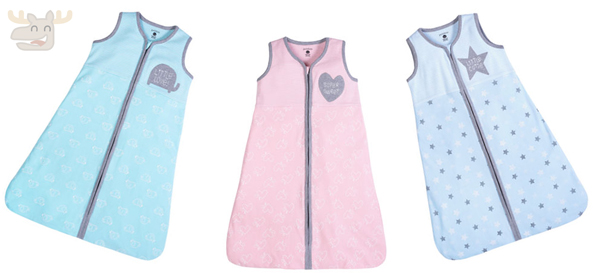 This Thanksgiving weekend, Hudson's Bay is offering free shipping on EVERY order, as we mentioned in this post the other day. We don't know the exact expiry date of the deal, so we're hunting down the bargains now so you can take advantage – instead of having to spend a minimum of $99, as is the norm there. I spotted a sweet deal on some baby sleeping bags, these Petit Lem bunting suits. These items were originally $28, but you can grab them for only $19.60 just now – with FREE SHIPPING of course. !
Now, in addition to the discounted price and free shipping deal, you can actually save even more if you have a Hudson's Bay Mastercard or a Hudson's Bay credit card. Take an extra 15% off your order if you do – the details of this deal are here, and I believe it's an automatic discount.
Here are the three items you can choose from in the Petit Lem bunting suits:
For each item, you can choose age 0-3 months for a newborn baby, or 3-6 months for a slightly larger baby. To be honest, if you know anyone who is expecting and they've already found out the gender of the baby, these would make a beautiful new baby gift.
Now, even though there's a clear separation in the blue & pink styles here, there would be absolutely nothing stopping me putting my little girls in either colour of sleeping bag. Do you have a little boy? Do you feel the same?
These are really handy to keep a baby cosy and warm during the night. In terms of a general price comparison, the first items that jump to mind are gro-bags: the well-known brand of baby sleeping bag. These usually retail between $40 and $50 though!
(Free shipping expires: 12th October 2015)