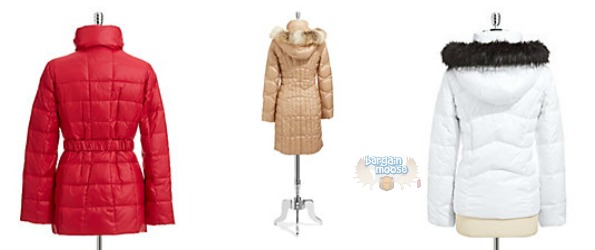 Today only at Hudson's Bay, you can get Guess puffer coats for only $99.99. This is a fantastic deal as the costs regularly retail for over $200 in some cases.
If you live in Ontario (and probably other parts of Canada), the snow is falling heavily for you right now. My kids were extremely excited to see it, and I was absolutely not. The kids don't have boots yet, my garage is not ready for my van and I haven't even considered snow tires yet. But, I'm sure there are some of you out there pulling out last year's winter coat and feeling disgusted. This happened to me a few years ago when I had been wearing the same coat for 10 years! I recently bought myself a new coat, but I'm completely considering these puffer coats as $100 is a fantastic price for a Guess coat.
It looks like there are three styles of puffer coat to choose from and all are completely different colours and styles.
The first is the Paulette short faux fur trimmed parka. Regularly $248, this coat is available in white or black. I'm really considering the white. It has a pillow collar with faux fur hood.
The second is the Petula belted zip front jacket. Also regularly $248, it is available in red or black. I like the belted look as it is very flattering and the buckled is magnetic, which is super easy. I'm totally considering this one too in the red.
The third is the faux fur trimmed pillow collar parka. Similar to the Paulette, this one is long, which I really like as you keep your butt warm on all those windy days. I have a long coat and I would never exchange it on the coldest days. This one is regularly $268 and comes in black, champagne and teal. The teal is striking and such a change from all the black coats you see out there.
Women's outerwear is on for 50% off, so there are other Guess coats on sale, plus many other brands. One of note is this Maya coat with gold hardware, which is now $134, regularly $268. I absolutely love the look of this coat - I just find it so regal and a perfect look for the holidays.
Shipping is free on all of these coats, as they are over $99.
(expiry: 14th November 2014)