Hudson's Bay has another awesome free beauty gift with your purchase and this time you get to choose your free gifts.  When you purchase two Clarins products, one which is skin care, you will get to choose from three gift collections. In addition to this freebie, you will get free samples, a free savings card and a free mascara!
The total value of these gifts is up to $205 each depending on which one you choose.  In total, there are three different gifts to choose from. Each gift set has three items in it and a specialty Clarins beauty bag. If your skin is feeling dry, you may want to choose the Hydration Experts gift pack.  If you are wanting to minimize those pores and wrinkles, the Wrinkle Preventers gift set is the one you should be looking at. Lastly, you can choose the Firming Specialist gift set.  This is the one I would choose because it has creams and lotions that will help firm and hydrate your skin so to me, it is a little combination f the other two free gift sets.
In addition to these gift sets, it does look like you will be getting a free mascara as well. Not only that, I was allowed to choose up to 6 free samples, and I got a free $20 savings card added to my cart when I spent $75 or more!  In total, I ended up getting nine free gifts and free shipping just for choosing two skin care products!  It was a very pleasant surprise. This is freebie stacking at it's best!
Here is a screen shot of my test cart and all of the freebies: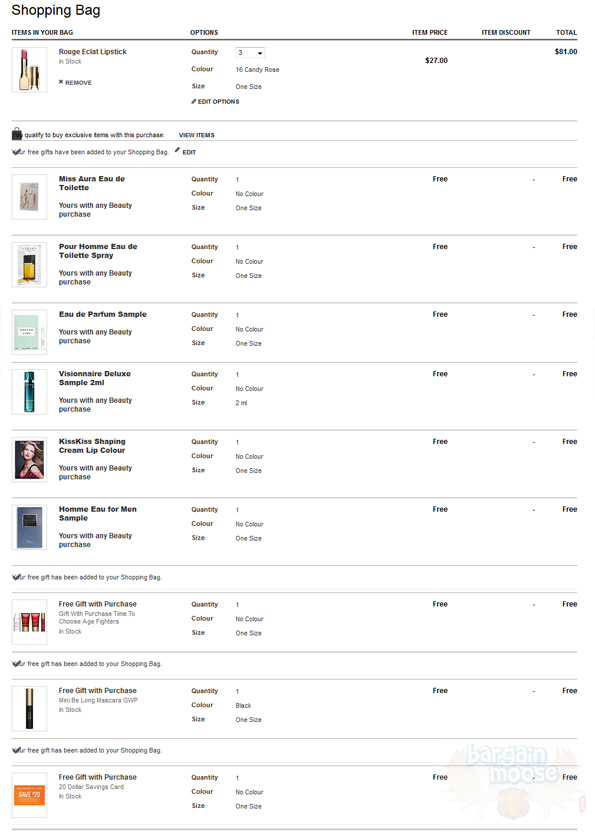 I am not sure why they don't actually advertise these amazing deals on their website because I actually had to fiddle around with my cart to get all of these freebies.  This is the perfect example of why you should do that as well, you never know what extra you can get. The website has been a little finicky when getting the freebies but you will get them with a little patience.  If you are having issues, just clear your cookies and start again.  This amount of freebies is worth the wait!
You will be able to get free shipping for your orders of $99 or more. Since you need to buy two skin care products anyways to get the free Clarins gift, chances are you will be meeting the $99 minimum requirement to get the free shipping. If you want to spend less, you can spend just $29 on your clarins purchases and as long as you pay with your HBC credit card you will still get free shipping.
(Expiry: 9th November 2014)