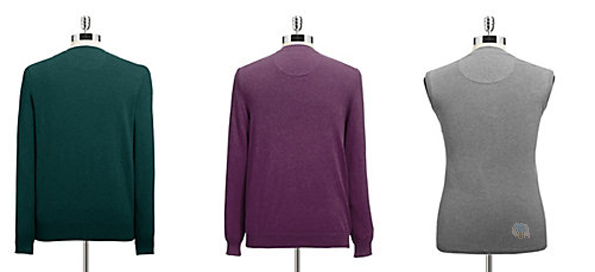 Now that the weather is starting to get a bit colder, it may be time to look into getting some warmer clothes. It's going to be the first day of November this Saturday, and we're going to need to start bundling up soon. Thankfully, Hudson's Bay is currently having an enticing sale on their exclusive Black Brown 1826 Cotton Blend Sweaters And Vests, and it's a great one! These pieces of apparel normally cost $40 each, but you can now order them for $19.99 each (plus $5.95 shipping).
When you click on the links above, you can choose from a nice variety of different colours for these men's sweaters. These sweaters and vests look like they're very comfy, and they've got a great look that I'd be happy to wear. They can also be comfortable enough to wear around the house when you're having a lazy day, and you definitely want to be comfortable when you're taking it easy!
At 50% off the regular price, this is an intriguing deal. In fact, these Black Brown 1826 Cotton Blend Sweaters And Vests would also be a great gift. They're available for a very decent price, so you can't go wrong with this deal. Just make sure that you know the correct size for the person that you're buying these sweaters for!
These Black Brown 1826 Sweaters And Vests are exclusive to Hudson's Bay, so you won't find them anywhere else. I've included a brief review of a similar Black Brown 1826 sweater from a satisfied Hudson's Bay customer below:
Completely satisfied with this sweater. The colour, size and texture was true to form. This will make a beautiful gift.
If you need some new sweaters, or if you're looking for a thoughtful gift, then you should check out this sale at Hudson's Bay. Happy hunting, Bargainmoosers!
(Expiry: Unknown)