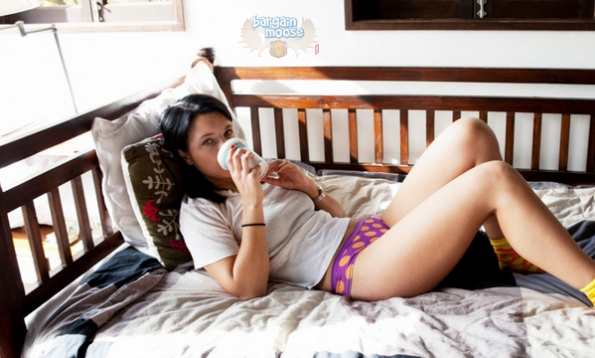 Combine this discounted with this latest promotion at HS Sweden! Socks, briefs, and boxers are on sale for up to 50% off in the summer clearance sale. In addition, you will receive free shipping: no minimum order is needed. Then, you can use our Exclusive coupon codeBargainMoose_HS_Sweden to receive an extra 15% off your order.
Summertime is when I become addicted to ankle socks. While I appreciate the added warmth of a mid-calf sock during the winter; the summer is just too hot for that much fabric. In the sale, these Leopard Low Socks are on sale from $12 down to $5.88 along with the Zebra low socks. Each pair of ankle socks comes down to $4.99 after our exclusive coupon code. You will also receive free shipping.
If you prefer the higher socks, then there are plenty of options as well. I have pulled out some of the socks that are steeply discounted as examples. The Striped sock (Black, Blue, Green, Grey, Orange, Red, and Yellow) was $13, and is now $6.37. After coupon code, pay just $5.41. In fact, you can grab a pair of blue/red Argyle Socks for the same price and as well as many other socks including the Five-Colour Sock (Black, Green, Grey, and Yellow) and the Stripe Toe Sock in pink/red.
If your sock box is already full (I know that mine is), then you may want to refresh your underwear drawer. There are plenty of underwear choices for women under $10 per pair. I rather like the pattern on the Bark Women's Brief. Originally $13, these underwear are on sale for $8.40. Use the promo code above to score a pair for just $7.14. I like HS Sweden underwear because they are made of 95% cotton and 5% Elastane. Essentially, they are quite breathable and gentle on the skin. They are perfect for hot weather.
For men, there are a couple different styles available. I prefer the Dot Boxer Brief as a basic but not too basic pair of men's briefs. I like the more formfitting cut and the mini white dots on black are nice too. Originally $20, these briefs are on sale for $14. Use our exclusive coupon code to pick up each pair for just $11.90.
With free shipping on any order, you can buy as many or as few pairs as you want. Usually, HS Sweden requires four 'pairs' (underwear or socks) in order to receive free shipping.
(Expiry: Unknown)