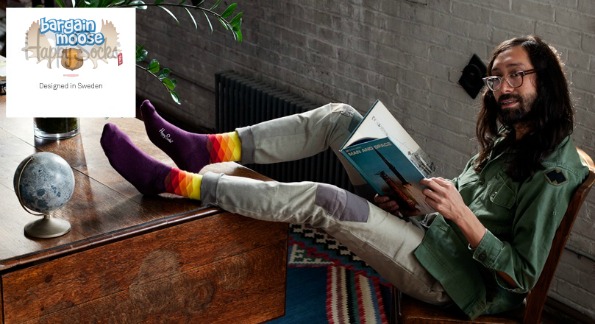 HS Sweden has opened an outlet section on their website for socks from previous sections. All socks appear to be about 30% off their original prices. This is a good way to get some awesome socks for less.
I recognise some of these designs from previous seasons and am delighted to see some of them back. My favourite in the outlet has to be these Big Dot Knee High socks in purple with white dots. They are available in size 36-40, which is the size I wear. Originally $16 a pair, they are on sale for $11.20. If I end up placing an order, these are going into my cart.
I really need ankle socks. There are quite a few on sale but only two are available in my size: both colour combinations of the Five Colour Low Socks. I would much prefer the Big Dot Low Socks or the Small Dot Low Socks, but only sizes 41-46 are available in them. Originally $12, they are on clearance for $8.60. I still might end up ordering the other two as I have owned them before, they are super comfortable, and a great fit. I always wore through my ankle socks first because I love wearing them around the house.
Winter is coming and you want some good leg coverage to keep warm. Pick up a pair of these Block Over the Knee socks in pastels. They are so long that they can barely be called socks and still a good price. Originally $22, they are on sale for $15.40 in sizes 36-40. These would be great with short skirts or even layered underneath jeans.
There are plenty of regular socks in both sizes. I find most women fit into size 36 - 40 and most men fit into 41 - 46. Consult the size chart if you are unsure as they have the size conversions to Canadian/US shoe sizes.
I actually prefer the socks from older seasons. If you go far enough back, then you will get back to when HS made their happy socks with hand-linked toes. For some reason, I found those socks to be the best and the latest seasons seem to be missing that feature.
Receive free shipping on orders of $50 or more. Orders under that cost just $4 for shipping. You may be charged duty as these socks are shipped in from out of country, but I have never incurred duty on HS Sweden shipments as of yet. That is just my experience for reference.
(Expiry: Unknown)