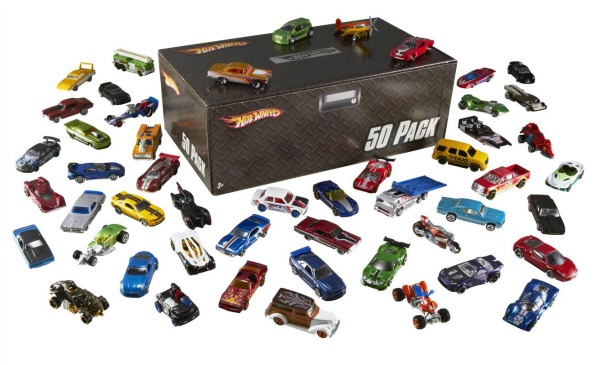 Hot Wheels are the bread and butter of any car collection. Right now, Walmart Canada has discounted a huge Hot Wheels 50 Car Pack from $79.94 down to just $39. That breaks down to just 78¢ per car. Receive free shipping to your local Canada Post location or a Grab & Go locker.
This box set is loaded full of awesome cars. You can give your child this huge box set of cars as the ultimate Christmas gift. As the cars are individually packaged, they can also be given throughout the year at birthdays, Christmas, and as rewards for good behaviour. 
This is the ultimate way to start a Hot Wheels collection or add to an existing Hit Wheels collection. You simply will not find cars cheaper anywhere else. This same box-set of cars costs $79.99 @ Toys R Us and $74.99 @ Amazon Canada. I price compared this box set against the Hot Wheels 20-Pack Set on sale from $34.94 down to $17 @ Walmart Canada. Cars in the 20 pack cost 85¢ per car whereas cars in the 50 car set costs 78¢ per car. While the 20 car set is a good alternative in case the 50 sells out, the Hot Wheels 50 Car Set is the best price.
All the cars come individually packaged in a thick cardboard box that can be used for storage. As one reviewer said:
My 8 year old son is a huge hotwheels fan. I knew it wasn't guaranteed I would get all really good cars, but we did! The set is awesome, packed perfectly and the box is very sturdy. Almost like a super heavy duty shoebox. The assortment of cars is fantastic. My son is going to love it and I would definitely recommend to others.
Many people have been very happy with the selection of cars they received while others wanted 'more special' cars to be added to the box. Above is a sample of the sorts of cars you can expect in this box. Overall, I think this is an immensely good deal. Also, Hot Wheels are loved almost as much as LEGO (though not quite), so this gift is bound to make a big hit at Christmas time.
(Expiry: Unknown)