Homesav Canada Table Talk Sale: Classic to Contemporary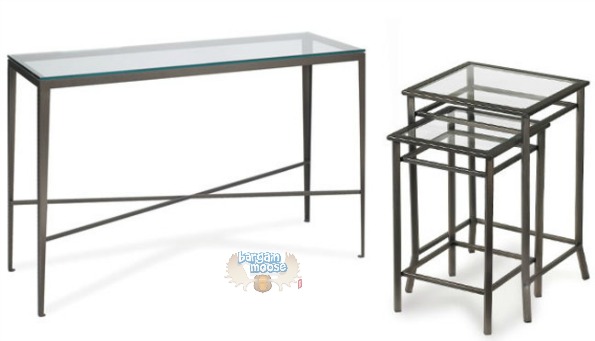 Homesav Canada is having a Table Talk sale on many different coffee, side, and console tables from classic to contemporary styles.  Shipping is free with most items and sale ends on September 28th 2012.
I absolutely adore unique tables and this sale has quite a few.  You can almost put a table in every corner of every room of your home and make them functional.
If you happen to be into the wood and glass look, this Metropolitan Set of 2 Nesting Tables is perfect for you.  The larger table is 24" high and 16" wide X 14" deep.  The smaller table is 20" high and 13" square.  This was $565 and is now $359.  The set is quite a simple design, and would be easy to add to any room's décor.  I love these tables as it makes it easy for me to place those 2nd or 3rd portable phones I need access to, or even a dish that holds the important keys I need to grab quickly.
Here's a more modern look at tables.  These Valetta set of 2 Nesting Tables were $1065 and are now $649.  This is a beautiful set of chrome and glass with quite a unique design.  The large table is 23.5" high and 24" wide X 22" deep.  The smaller table is 20.5 " high and 16" square. They also look nice and easy to clean.
I very much like the round table look like this Stonewood Round cocktail table that was $515 retail and is now $289.  This actually looks a lot like the one I have in my home currently.  I prefer the round furniture as I find it easier to clean, usually it has more space and there's less chance of my grandchildren hurting themselves on it with no corners to fall on.
I've never been big on console tables, but this Willows Semi console table has a very nice look, almost like half a circle.  This was $495 and is now $229.  I think this would look very nice behind a couch or loveseat, depending on your furniture arrangement.
Shipping: Free on orders of $100 or more.
(Expiry: 28th September 2012)