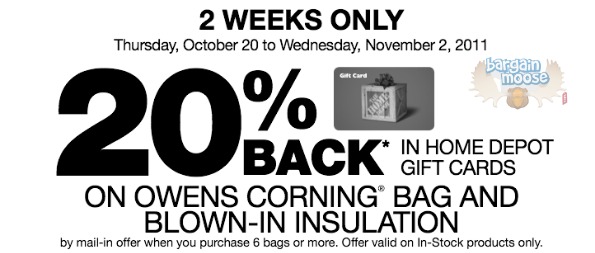 Planning on insulating your garage, attic or renovation project? Get 20% back in Home Depot Gift Cards when you buy Owens Corning bag or blow in insulation until 2nd November, 2011.
You'll get your rebate when you purchase 6 bags or more of insulation. Your photocopied receipt and rebate form must be mailed by 2nd December, 2011. The maximum rebate available is $300. There is a limit of one rebate per household.
The new Eco-Touch Fiberglass Insulation from Owens Corning is formaldehyde free with 70% recycled materials, a great option to insulate with. Not only with it help keep you warm in winter, but also cool in summer and can help you save up to 20% of heating and cooling costs.