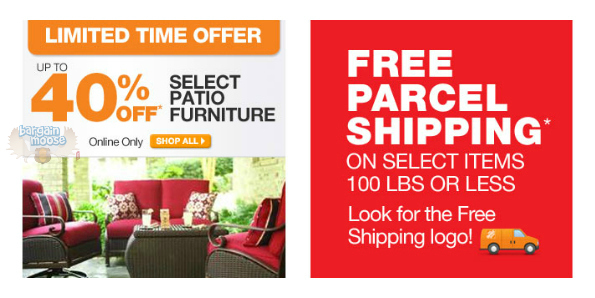 Shop online at Home Depot Canada and get free shipping on select items that are 100lbs or less.
Anything that qualifies for the free shipping deal will have a little truck icon on it and say free shipping.
While you are shopping at Home Depot be sure to check out their Patio Sale with up to 40% off patio furniture. I found the Hampton BayMillstone Cast Swivel Dining Chairs - 2 Pack that was $299 and is now $179.40. If swiveling is not your thing (I sure love swiveling) you can get the regular chairs a bit cheaper. The Millstone Cast Dining Chairs - 2 Packwas $269 and is now $161.40. That works out to around $80 a patio chair.
This kind of furniture tends to be awkward to fit into a smaller vehicle so sales like these can be lifesavers if you only own a small car and need to do some furniture shopping.
What do you shop at the Home Depot for?
(Free shipping expiry: 24th July 2013)