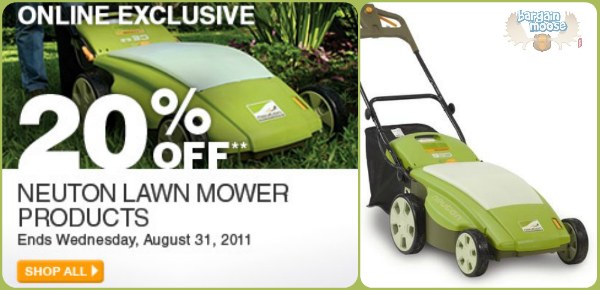 Home Depot is offering a little help to cut your 'green' in more ways than one. Get 20% off Neuton Lawn Mower products to cut your grass, and save you money. This is an online only deal.
Search "Neuton" for all the products on sale (use the quotes when searching).
I like this Neuton CE6 Battery-Powered Mower - 19 Inch. Originally $479 it is marked down to $383.20 with free shipping. It looks so cool! Here are a few reviews from the Home Depot website:
"Only used it once but found the difference between a gas mower and my Neuton night and day. The ease of starting, the weight difference and simplicity of just plugging in the battery to charge make it worth every penny."
"Did a lot of research prior to buying the Neuton CE6. Best decision I have made on a mower. Despite all the posted review from others, some good and some poor, I recommend this machine! I live in the country and mow over half an acre. No problems, no gas fumes, no oil cleanups!"
Sounds fab. I remember mowing my parent's lawn with our old gas mower.. the thing was soooo heavy!!