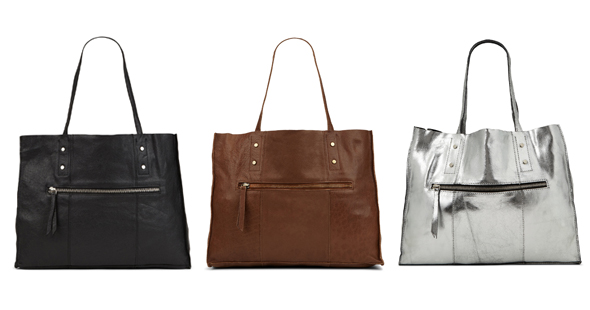 Wow, what a find! Are you in need of a new purse? Maybe you just want an update for your winter wardrobe. Jump on this incredible deal at Little Burgundy! The Hibou Beedy handbag that was originally $120 has been marked down to just $20! Plus, if you subscribe to their email newsletter, you'll receive a code for an additional 15% off and pay just $17, making the total savings almost 86%!
It looks like it's quite roomy and would be perfect as a school bag, diaper bag or for toting around your laptop or tablet. Between snacks and water and an emergency bottle for the baby (oh, and a wallet!), I know that my handbags can never be too large!
There are even three different colours to choose from.There's the basic but classic black and cognac but if you wanted to add a little shine to your wardrobe, check out the silver!
Now, details are sparse -- actually, they're nonexistent. Unfortunately, Little Burgundy has not listed any information about the tote and since Hibou is their proprietary brand, it's not carried elsewhere. So, here I was assumimg that it's made from PU, or faux-leather, and not genuine, especially given the colour of the silver one. Even so, you'd be hard-pressed to find a quality tote for $20 no matter the material. BUT, I just saw posted online that a fellow bargain hunter called her local store and was told it is, in fact, real leather! A large, genuine leather tote for less than $20?! That's unheard of.
If you've not had much experience with Little Burgundy, it's part of the Aldo group so they can usually be counted on for fairly well-made items. They also have a great return policy that extends even to clearance items. If the purse arrives and you decide you don't like it, you can take it back to any Little Burgundy store or ship it back via courier.
Shipping is free on orders over $90, otherwise, it's $5 for standard service and $10 for express. If you opt for express, you might get lucky and receive it Christmas Eve!
You'll want to get your order in before these sell out. It may not arrive in time to be gifted for Christmas but it's time to treat yourself, anyway! You can get your own little gift -- without the feelings of guilt -- to make up for those socks and ice scrapers your parents still think make good Christmas presents! Or is that just my parents?
Hurry, Moosers! Jump on this one before it's gone. Let me know which colour you chose!
(Expires: Unknown)