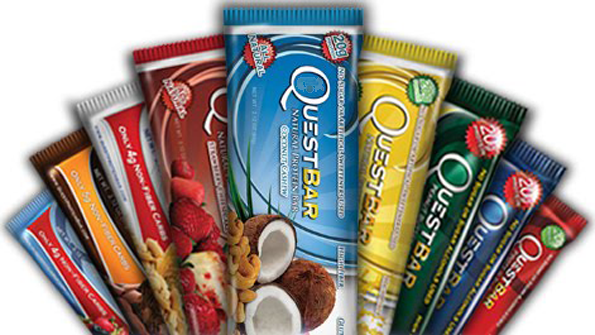 Hey there, Bargainmoosers! Healthy Planet Canada is currently having a decent sale on their Quest Bars, which come in a variety of different flavours. For a limited time, you can get 20% off these Quest Bars (regular price is $2.79, and now they're $2.23 each). If you plan to purchase a large amount of these bars, you can save a decent amount of money (especially since you're saving $0.56 on each bar). You'll also get free shipping if you spend a minimum of $50 (if you purchase at least 23 Quest Bars, you'll get free shipping).
This deal intrigued me, since my brother is a personal trainer (and one of the pickiest eaters I've ever met), and he loves these Quest Bars so much that he usually buys boxes of them at a time - the only other protein bars he's ever approved of were VEGA bars.
Featuring top-quality protein and a delicious taste, these low-carb and gluten-free bars come in a variety of great flavours, including Apple Pie, Chocolate Chip Cookie Dough, Vanilla Almond Crunch, Banana Nut Muffin, and my personal favourite, Lemon. You can read specific details about the supplement facts of Quest Bars by clicking here.
I've tried these bars several times (at the insistence of my brother), and they taste great. It's especially great after a work out, though I wouldn't recommend having a bunch of them (which can be a challenge - especially when they taste so good!)
If you found Quest Bars at Fitshop, they would cost you $29.99 for a box of 12 ($2.50 each), but that would all be for just 1 flavour. It would also cost you $31.99 for a box of 12 ($2.67 each) on Amazon. I've included a brief review of Quest Bars from a satisfied Amazon customer below:
I have bought these from my local supplement store and was able to find them on here for cheaper. They are very tasty and are a great mid morning mid day snack.
I hope you all enjoy your day, Bargainmoosers!
(Expiry: 13th October 2014)