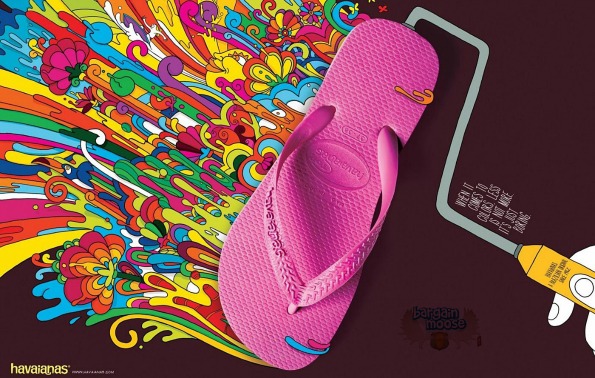 Call them flip-flops, call them sandals, just make sure you call them Havaianas because this brand is one of the best known makers of flip-flops in Canada. They also have a sweet little clearance section to make your toes happy for summer.
There is nothing better than a flip-flop for summer. Wear them on the beach and don't worry about getting sand in them; with one swift movement you can give your shoe a little shake and all the sand is gone. There are no worries about getting them wet, since their flat shape and sturdy material make them a breeze to dry and still stay in good shape. You also don't need to spend extra time doing up laces or worry about your feet getting too warm.
Looking for a bargain pair of sandals? Look no further than theBrasil Mix (white/grey) that was $30 and is now $18. It is a humble flip-flop that will let your toes feel the wind between them. Do you prefer a more stylish pair to adorn your lovely soles? I think the Slim Lace (white) are super pretty. Originally $45, they are on sale for $27. If you wish to have the feet of a goddess then these Slim Leaves (sand grey/ light golden) that were $85 and are now $51 are a must.
One thing to note is that the sizing is a little different.  The drop-down menu has Brazil sizing, but if you click on "Help Finding the Right Size", it shows you an easy conversion chart.
Shipping is on the expensive side. It runs $9 per pair of shoes, but you can get free shipping on orders of $60 or more. I highly recommend hitting that minimum to get new flip-flops for the entire family.
(Expiry: unknown)