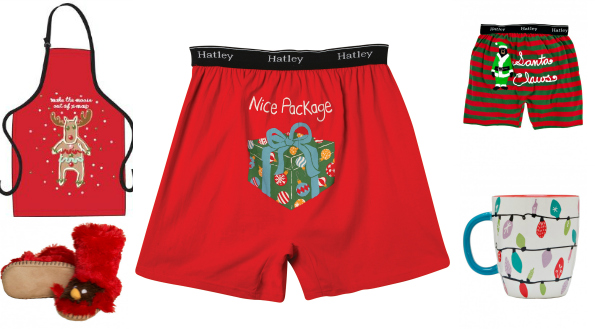 Hatley Canada is offering FREE shipping with no minimum today only. Today is your last day for delivery before Christmas so you will want to place your order ASAP if you are still missing some Christmas gifts. With up to 50% off in the outlet section, you are sure to find something you want or need.
I was surprised to see a few Christmas items already in the outlet. For that special man in your life, purchase these "Santa Claws" Men's Boxers on sale from $19 down to $9.50. Alternatively, you can pick up these equally cute "Merry X-Moose" Men's Boxers or the "Nice Package" Men's Holiday Boxer also on sale from $19 down to $9.50. As you can imagine, sizes are limited.
I like creating my own little gift bundles to give to people. It is a bit harder when you do not get to assemble the gift yourself - say if you are mailing directly to the recipient. This Lights Apron would make a great gift for anyone who ends up living in the kitchen come the holidays: either as a cook or a baker. Originally $25, you can pick up this apron for just $12.50.
I would combine this apron with the matching Lights Mugon sale from $12 down to $6. Together, they are still under $20, which is sort of my cut off amount when giving gifts to people that I am not very close to. My close friends and family - the sky is the limit.
There are a couple other great holiday aprons on sale. Check out Making The Moose Out Of Xmas Apron and Season's Grrreetings Apron each on sale from $25 down to $12.50.
I have been looking for some warm and cosy adult slipper and I think I just found the pair I am going to buy. These Cardinal Adult Slippers are on sale from $29 down to $14.50. For those who love their dogs, these Labs Adult Slippers are also on sale from $29 down to $14.50 each. All sizes are currently in stock!
Lastly, I just have to mention these Fifty Shades of Hay pyjama pants. If they were still in stock in my size, I would so be buying these! Originally $39, they are now $19.50 but only in stock in size medium.
(Expiry: 18th December 2015)