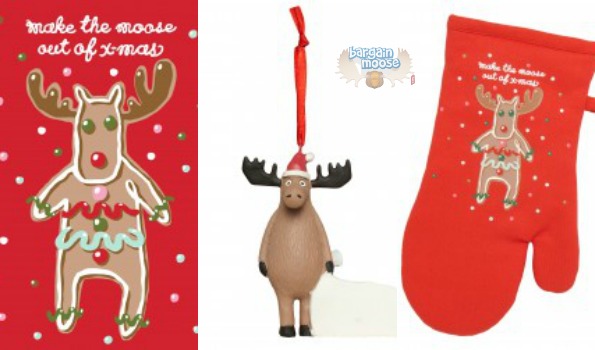 Hatley has a number of items on for 50% off right now, including this moose-rific Christmas apron, which is now only $12.50, regularly $25. It just so happens they are also having their free shipping with no minimum weekend on right now, so you'll also get it shipped to you for free, instead of having to spend a minimum of $50.
Of course, we at Bargainmoose love this apron, but I know that the Hatley lovers out there will love it too. Moose and bears are part of Hatley's trademark look. An apron like this is perfect for yourself or as a gift for the cooking or baking lover in your life.
The item has also been discontinued, so you won't see it in stock again, so if you love it, now is the time to jump. It is 100% cotton, splatter resistant and has an adjustable neck so any man or woman can wear it.
While you're at it, you could get the matching oven mittfor only $5, regularly $10. My mom would love the fridge magnetthat matches as well, only $2, regularly $4.
If you aren't into moose (as if that's possible), the Season's Grrreetings apron is also cute, with the signature bear cooking a turkey. Also only $12.50.
If you don't mind paying full price, you can still shop other items at Hatley and get free shipping this weekend. Check out the wide selection of kitchen aprons in the gift section. I like the Making a Moose in the Kitchen because that's apparently what I do, but I love it. This one is full price at $25.
Although this is the free shipping weekend so you don't have to spend $50 to get free shipping, you have an incentive to do so. First, your incentive is all the great stuff in the outlet you might want to buy. Second, if you spend over $50, you'll get a free Hatley ornament. These are $8.99 each, so you might have to weigh out the cost of your shipping to the cost of the ornament. My favourite of course: Moose Angel.
(expiry: 23rd November 2014)