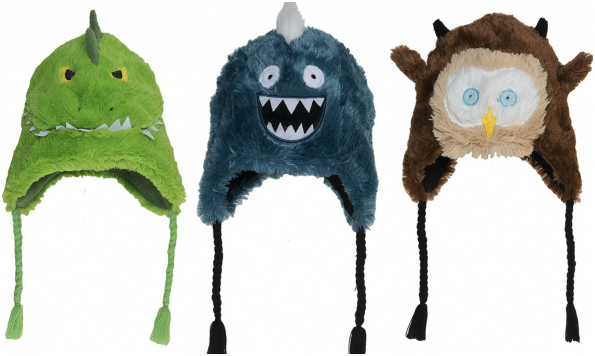 OMG I LOVE these hats! Hatley Canada has discounted a healthy selection of adorable fuzzy hats from $25 down to just $12.50 each. On top of that, all orders currently qualify for free shipping with no minimum at Hatley.
Hats come in small, medium, and large and have ear flaps to keep little ears out of the cool breeze. Consult the Hatley size chart to determine the size your child needs. There are seven styles to choose from and my favourite has to be the Ice Monster Fuzzy Fleece Hat. In a cool ice blue with a huge grin, this ice monster hat is going to be adored by your little monster. If you are looking for another hat with attitude, the Alligator Fuzzy Fleece Hat is sporting some serious teeth poking out with spikes on his head.
Let us switch to cute and cuddly. The Cat Fuzzy Fleece Hat is bound to be popular with little girls who love kitties. Primarily white with pink accents, this cat will look sweet on your little kitten. The Penguin Fuzzy Fleece Hat is also totally adorable and would be a great gift for the Happy Feet fans.
While the Monster is my favourite hat, I think the Owl Fuzzy Fleece Hat would be my next choice. This looks like it was designed after the great horned own as it not only has big eyes and bug ears, it has a set of horns as well! There is even a cute little yellow beak. If birds are your thing, then the Cardinal Fuzzy Fleece Hat might be a great choice. I really love that gorgeous red cardinal colour, but I wonder how many kids know what a cardinal is.
Lastly, the Pink Bear Fuzzy Fleece Hatis the hat i mistook for a pig, and you might too. While fuzzy and definitely 'bear shaped', the pink colour with white accents immediately made me thing of a cute lil piggy. Maybe they made it a bear because pigs aren't fuzzy.
This is a great time to pick up a cool hat for your little kid - just in time for winter!
(Free Shipping Expiry: 18th October 2015)