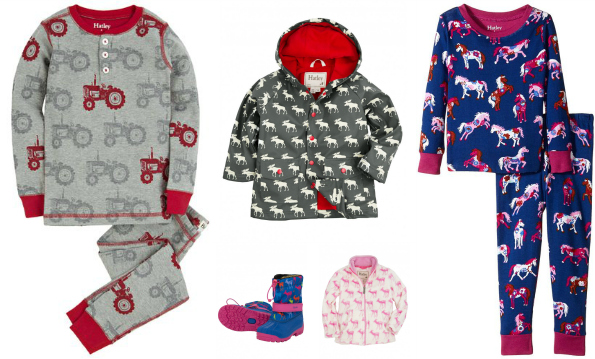 Hatley Canada has launched their Black Friday sale and it is so HOT that the website kept on crashing while I was writing this. Seriously! For Black Friday, they are offering up to 75% off their awesome nature-inspired pyjamas, clothing, hats, and other nick-knacks. As per usual, receive free shipping on $50 or more.
You will want to shop this sale as soon as possible as it looks like EVERYTHING is on sale. I was looking at kids' pyjama sets and found a couple sets right at 75% off mark. This Blue Bearly Sleeping Kids' Short PJ Setis on sale from $39 down to just $9.75. It is selling out fast and the pink version is already sold out. This Silhouette Tractor Henley Pajama Set is also on sale from $39 down to $9.75 and there are a few of the larger sizes left in stock. You can also pick up the Blue Polar Bear Henley Pajama Set in one of the few remaining sizes for the same sale price.
This Icy Butterflies Fuzzy Fleece Jacketis a hot buy and many of the larger sizes are still available. Layer up your little girl and keep her warm in this fleece jacket this season. Originally $49, the jacket is now on sale for $12.25. This Soft Deers Fuzzy Fleece Jacket is also on sale for the same price - $12.25 - and there are more sizes currently in stock. I actually like the pattern on the soft deer jacket a little better as well.
If you are looking for brand-new winter boots for your child, then you are in luck! These Graphic Deers Winter Bootsare on sale from $64 down to just $16! All sizes are currently in stock but this will not last for long.
I am dying over the price of this Grey Moose Raincoat. Originally $58, this raincoat is now on sale for $14.50. This is just so cute, so adorable, so cheap, and there are many sizes still left in stock! Buy now or regret later!
In the women's section, one of the best deals is on this Nautical Stripe Women's Field Jacket on sale from $172 down to $43. Only size XL is left so demand is high but supplies are limited. Most women's sleepwear is 50% off like this Pretty Penguins Flannel PJ Set on sale from $102 down to $51.
These deals will not last long! Shipping is free on $50 or more.
(Expiry: unknown)