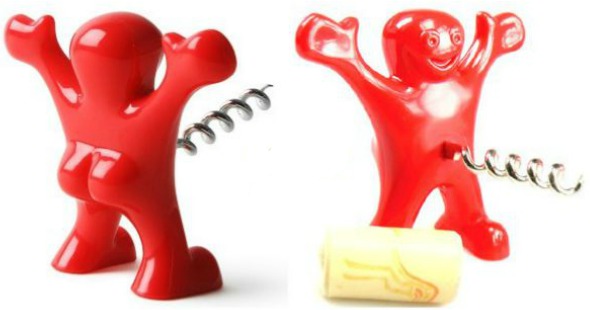 *Bump! This happy little guy is now available for a great price at Amazon.ca*
Oh my gosh. This is just too adorable to pass up, I have to own one of these red Sir Perky Wine Bottle Openers. I stumbled across them first on Amazon.ca on sale for $7.95 but when I did a little price comparison I found that you can actually snag this adorable novelty gag gift for just $2.65 at Amazon.ca from a different seller, and that price even includes shipping. Sweet, right?
The Sir Perky Wine Bottle Opener for just $2.65 at Amazon.ca is the best idea for a party or a gift with a little humour, and the price is pretty much unbelievable. If you think you are excited to open up that bottle of wine, you're not as happy as this Sir Perky Wine Bottle Opener. He is always ready and willing to open your favourite wine. Not to mention his little butt cheeks are just adorable. You will also be greeted by his happy face and open arms every time you open the drawer you store him in, so expect some cheeky remarks from guests.
Here is a quick look at the price of this nifty trinket at other Canadian retailer locations:
$18.85 + shipping @ LightInTheBox.com
$4.70 @ GearBest.com
I am not sure what people have tried to do with Sir Perky here, but Amazon.ca has a warning on this product that states to only use Sir Perky for his intended purpose, for your safety. Other than that, reviews say that this product works well for the intended use and also sparks up a lot of conversations. Gee, I wonder why? I wish my significant other got this excited about wine, haha.
This secondary seller on Amazon.ca includes free shipping on this particular purchase, so you don't have to worry about any extra fees. I still can't believe how affordable this little trinket is. I had to order 3, let's just hope they don't get any ideas in my cutlery drawer! These will make super Christmas gifts as well, if you have anyone with a little humour on your Christmas shopping list.
(Expiry: Unknown)