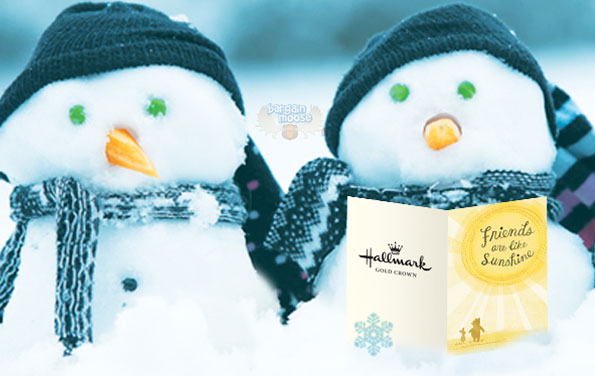 Mooosers, how many of you give greeting cards over the holidays? Until Christmas, you can save $5 off the purchase of 2 Disney greeting card with the use of a Hallmark printable coupon.
Whether for a winter birthday or for any other occasion, if you need cards, this is a wonderful promotion. Since it's only redeemable on cards that are $3 or more each, this means that if you get two cards at $6, then you can expect to have to fork over just $1 to cover the difference. Of course, we all know that the good cards tend to be more of the $5 a pop variety, so realistically, you can't expect to pay around $5 for both cards with the use of this printable coupon.
None of my friends or family have birthday in November or December but I do have one friend whose birthday falls mid-January. As such, I'm planning on hitting up my local Hallmark store to find an appropriate card, especially since she's crazy about Disney despite being in her late 20's. Hallmark's printable coupon may only be redeemable on Disney greeting cards but this doesn't mean that you can't find one that could fit just about any occasion, especially since on their main promotional page, they list 3 cards, one of which has the words: "friends are like sunshine" written accross it and the other features "winter wishes" in big bold letters.
So, the chances are good that if you were planning on sending plenty of holiday greeting cards to friends and family, that you could more than likely find holiday-related cards among these and not necessarily just for kids either.
Keep in mind that you may only use one coupon per visit but technically, there is nothing stop you from coming back the next day and the day after that... just as long as the store employees don't recognize you. ;)
Plus, you can also take advantage of a "3 cards for $10" deal if you need more cards. With the purchase of 3 cards, your will also be able to get gift bags for just $2 each. Whether you're better off the promotion or getting a third card for the $10 deal really depends on each card's worth. If each card is $3, then you're definitely much better off redeeming the printable coupon. Otherwise, it might be better to get a third one.
For more Hallmark printable coupons, keep an eye on the Bargainmoose forum.
(Expiry: 24th December 2014)