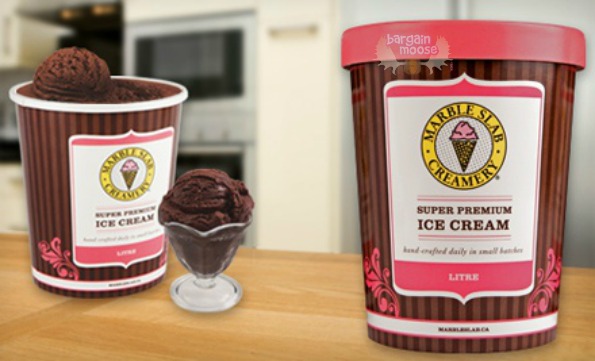 This is one tasty deal! Get a Groupon that is worth $21.90 of ice cream for only $12. You'll get a coupon for two 1L tubs of Marble Slab's yummy, super premium ice cream to use in-store.
I have to say that Marble Slab is quite the treat for my family. We love entering the ice cream shop, knowing we are going there just to get ice cream, nothing else. With the many flavours and mixin's, we each take our time finding the best combination of ice cream and candy, then sit devouring it. This deal is great when you can't sit in and want to take it home to share with the family.
What's totally awesome about Marble Slab is that all of the ice cream is hand-crafted in-store in small batches every day, so you know it is very fresh. Take a look at the list of flavours, with some delicious ones like Amaretto, Cinnamon Bun, Cotton Candy, Green Tea and Red Velvet. The hard part is choosing just two!
You can buy two Groupons per person and use both in one visit. You also need to use the Groupon by September 30th (and why wouldn't you?).
(Expiry: 26th June 2013)