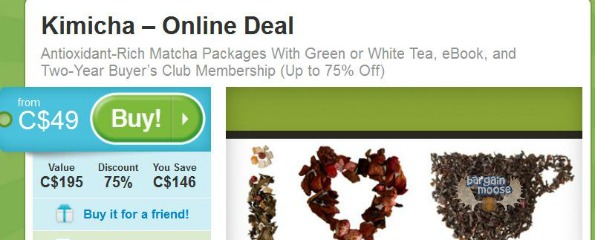 Groupon has a great deal out right now for those tea lovers out there. Get an Organic Matcha powder & loose-leaf organic, handpicked teas complement club membership good for 30% off all online purchases for 2 years all for just $49 (regular price is $146).  That is a savings of 75%.
I am a huge tea lover and never drank coffee.  I can go through a post a day easy by myself!  I enjoy getting loose leaf teas and mixing up the flavors just like coffee drinkers like to get special flavors.  This is a great deal for someone that enjoys tea.
Choose Between Two Options:
$49 for a green tea and matcha package (a $195 value)
$49 for a white tea and matcha package (a $186 value)
Each package includes one 80gm bag of organic, antioxidant-rich Matcha (a $60 value), a two-year membership (an $85 value) to the buyer's club, which is good for 30% off anything in the online store. It also includes a download of the Matcha Healthy Energy Boost! e-book by Kimiko Uriu (a $35 value). With the first package, you also get one 40gm bag of organic Korean green tea (a $15 value), and with the second you get one 15gm bag of organic white peony tea (a $6 value).
This deal must be activated by 3rd October 2012 and you may buy 1 per person and 1 as a gift.  Once you have bought this deal it can be activated any time after 5th April 2012.
(Expiry: 1st April)