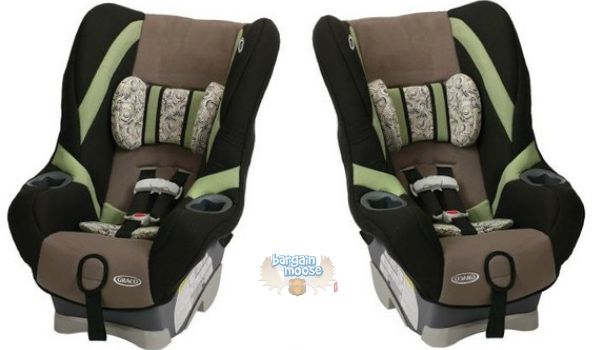 If you need a car seat for your little one, check out the Graco My Ride 65 car seat in Marston. This car seat was $219 and is on sale for $148.09. Use out coupon codeMOOSE50OFF125JULY to receive $50 off the price of your order. That brings your car seat price down to $98.09. Free shipping with no minimum is included with all orders at Shop.ca.
The cost of car seats can be quite overwhelming, but the reality is you want to make sure your kid is safe and secure. For a sure bet, you should check out the Graco My Ride 65 car seat in Marston. The My Ride 65 line has been a part of the Graco car seat line for quite some time, and has been talked about over and over again in many mom circles.
This car seat can rear face for up to 40 pounds, and the five-point harness can secure a toddler forward facing up to 65 pounds. If you are hoping to keep the car seat rear facing for as long as possible, this car seat is a good choice. The headrest is removable and the seat pad is washable (a la potty training!). This seat also comes with two cupholders and lots of extra padding for safety and comfort.
In 2014, Graco did a voluntary recall of several of their harness buckles as some were getting stuck in the latch position. This issue does not compromise the safety of the seat. There were no reported injuries, but Graco is replacing the latch of multiple car seats including some of the produced My Rider 65. You can see the full information on Graco's website, and if you happen to run into any trouble Graco will replace the buckle for free. I like that they are being proactive.
Amazon.ca is selling this car seat also for $148.09, but there is no coupon code that can be used at Amazon. Canada's Baby Storehas this car seat available and is selling it for $164.25. NewEgg.ca is selling this car seat and shipping from Canada's Baby store for $199.98. Babystyle.ca is selling this car seat for $209.95. Over at Walmart.ca, the Marston style is out of stock but they are selling this car seat in a pink and brown Spritz style for $148.
Over on the Shop.ca website, there is a lot of love for this car seat in the reviews. Here is one parent's review:
I just purchased this seat for my son because I want to extended-rear-face for as long as I can, and--being a string bean--he was probably going to outgrow a standard car seat in height before weight. I love that this seat goes up to 49 inches! My son was very excited by the brighter colors and padding plus it has two cup-holders. I am thrilled with my purchase!

Bargainmoosers, I have to say, I am a bit sad that our Shop.ca coupons are all expiring today. We have been able to bring you so many amazing deals with these exclusive coupons such as Foscam Wireless Security Camera and Baby Monitor Camera I wrote about yesterday or the Coleman Kitchen Camping Bundle Avigayil wrote about. You may want to browse all of the recent Shop.ca deals to make sure you did not miss one before the coupons expire today.
(Expiry: 31st July 2015)